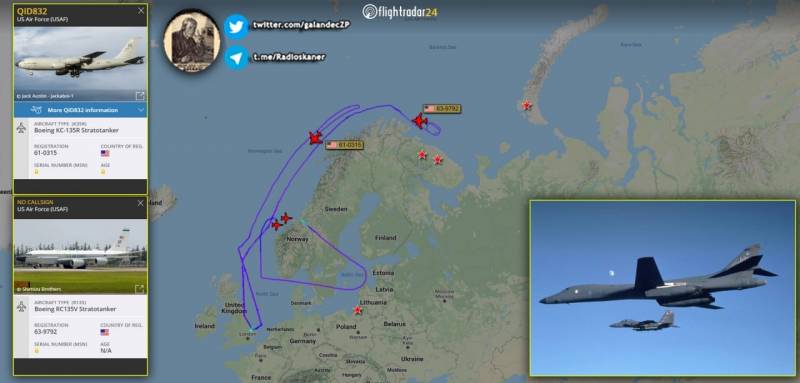 On Tuesday March 2, two American B-1 bombers took off from Norway's Orland airbase, passed through international airspace over the Baltic Sea, then turned south and headed towards the border with Russia on a provocative mission, Forbes writes. Accompanied by a pair of NATO Eurofighter Typhoon fighters, one of the bombers roared over the capitals of Lithuania, Latvia and Estonia at low altitude.
Such an action had at least three goals: to calm the authorities and the population of the most vulnerable member countries of the Alliance, to demonstrate to Moscow Washington's clear intention to protect its allies, and also to become a kind of "bait" for the Russians' retaliatory actions and thereby give US reconnaissance aircraft the opportunity to collect useful data.
At the same time, the US Air Force RC-135V electronic reconnaissance aircraft, supported by the KC-135 tanker, was conducting an operation near Murmansk in northern Russia, where the Northern Fleet and other large Russian military forces are based.
There is a fine line between calming allies and provoking rivals .... While friendly bombers over the Baltic states can calm the inhabitants of these countries, the same bombers are viewed just a few miles east as a growing threat from NATO.
- explained to the American publication Hans Christensen, a military expert of the Federation of American Scientists in Washington, speaking about the deployment of Alliance warplanes in Norway.
Back in early February, the US Air Force announced that it would send B-1 bombers to Norway for the first time. The planes arrived in the country on 22 February and wasted no time joining a NATO naval exercise off the Norwegian coast. The Baltic Walk was the second major bomber mission.