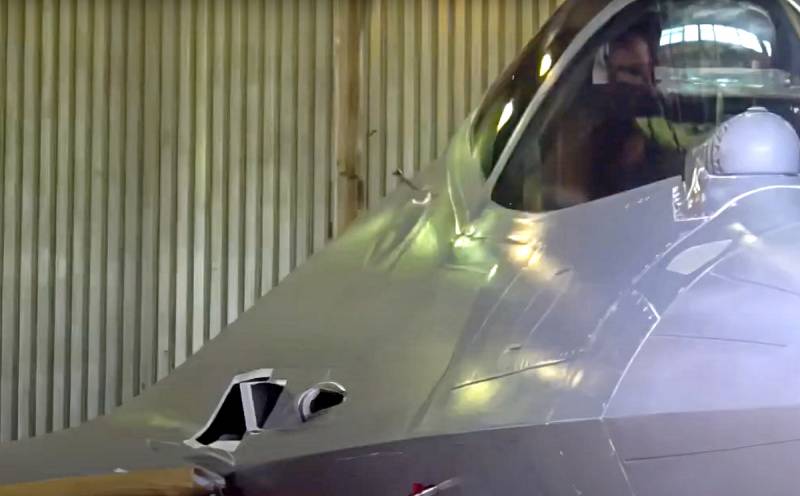 Interesting footage appeared on the Web in which the Russian fifth-generation fighter Su-57 Felon ("Criminal") literally "tore" its rapid-fire aircraft cannon. The footage clearly shows how a huge flame bursts out of the side of a jet plane during ground firing, writes the American Internet publication The Drive.
An unpainted Su-57 used in static tests fires an advanced single-barreled 30mm GSh-30-1 (9-A-4071K) cannon located in the front right of the aircraft fuselage in front of the wing attachment. Exactly what improvements were made to the gun is not yet clear. In the basic version, the gun weighs 44 kg, has a rate of fire of 1500 rounds per minute, and has 150 rounds of ammunition.
The date and location of the tests are unknown, but even this short video is enough to understand that the traditional cannon remains an important part of the arsenal of Russian fighter aircraft. Russia, unlike the United States, continues to arm its aircraft with them.
When the gun is not in use, the muzzle is hidden by an aerodynamic fairing, which helps to reduce the radar signature of the aircraft's frontal hemisphere. For firing, the front of the fairing turns, exposing the barrel of the gun, and another hatch opens behind it, apparently for the release of powder gases. The second hatch is much larger than the first and is also closed by default.
Test firing on the ground is an important part of verifying the reliability and accuracy of the weapon, and determining if there have been any adverse effects on the aircraft itself. Vibration, gas and particle impact from cannon firing can be a serious problem for any glider.
For close air combat, the gun hidden inside the side will be a useful addition to the existing arsenal of missiles. Without a doubt, the Su-57 will succeed in close combat. Even if you have enough ammo for a few seconds, it may be enough, especially if you run out of missiles.