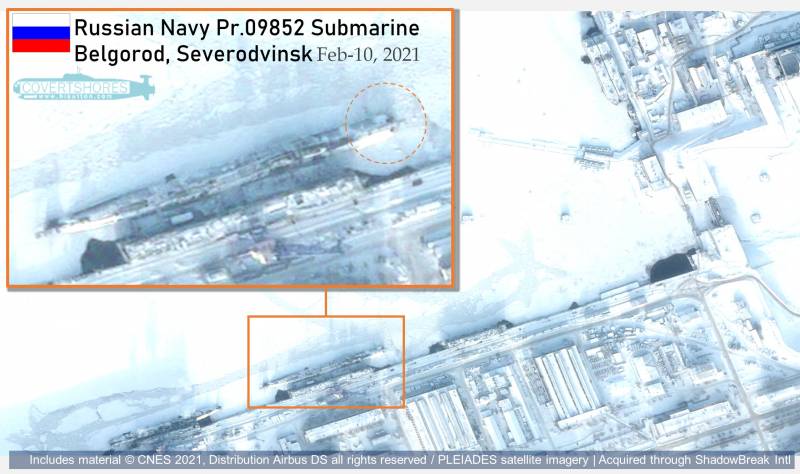 American satellites were able to examine the carrier of nuclear torpedoes "Poseidon" from space, and on the basis of the images of the submarine, US experts made conclusions about its military technical characteristics.
The Poseidon was carried by the unique project 09852 K-329 Belgorod special-purpose submarine. It is one of the least studied Russian submarines currently under construction by Western military analysts.
The boat will be armed with the strategic strike system "Poseidon", and will also carry out secret military operations at great depths. In this role, she will work under the supervision of the Main Directorate of Deep Sea Research of Russia.
Belgorod will be able to carry up to 9 Poseidons on board. Based on the images, experts believe that the diameter of the boat's torpedo tubes is about 6-7 feet (about 2 meters), from which one can draw hypothetical conclusions about the caliber of the latest super-torpedoes.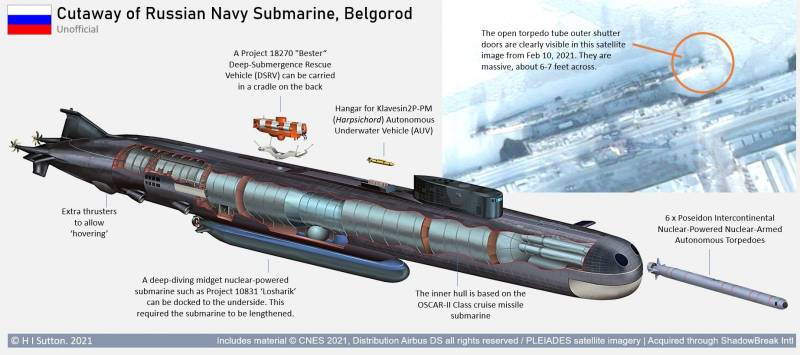 Under the keel of the submarine there may be a nuclear-powered ultra-small submarine "Losharik" designed for conducting combat and research operations on the seabed. On the deck of the submarine there is a Project 18270 Bester rescue underwater vehicle operating at depths of up to 800 meters.
The submarine was launched in April 2019 and is expected to begin sea trials in May 2021 after the White Sea is ice-free. According to
TASS
obtained from a source in the military-industrial complex, the tests of "Belgorod" have nothing to do with test launches of "Poseidons".
Initially, the submarine was planned to be transferred to the Russian fleet in 2020, but this was not done in part due to the Covid-19 pandemic.