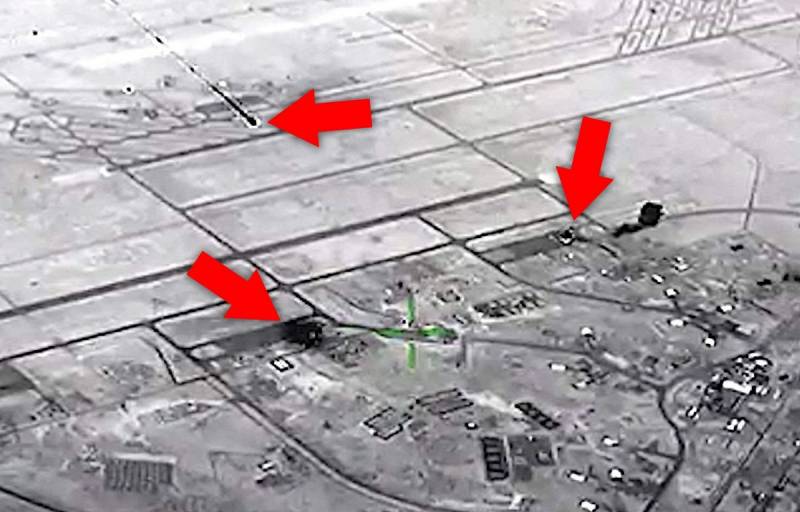 The U.S. military released previously unknown aerial footage of al-Assad airbase in Iraq during an unprecedented Iranian missile strike on the facility on January 8, 2020. This sheds light on what happened, writes the American Internet publication The Drive.
The video, captured by a drone in the sky, shows six Iranian Qaim-1 short-range ballistic missiles hitting the base. US Central Command (CENTCOM) declassified the video and released it on CBS News' 60 Minutes in late February 2021.
After the strike, it was reported that the base was hit by 11 Qaim-1 missiles and at least one hit Erbil International Airport, where US troops were also stationed.
Major of the US Army Alan Johnson clarified in the program that, according to intelligence, Iran was going to launch 27 missiles at the base. But he launched only 16 missiles, 5 of which did not work. As a result, 110 US military personnel suffered unspecified injuries, but fortunately no deaths were reported.
General Frank Mackenzie, head of CENTCOM, said the Iranian preparations had been uncovered well in advance. Before the rocket rain fell, Iran bought commercial satellite imagery of the al-Assad base. This made it possible to evacuate a significant part of the personnel, equipment and
equipment
... 51 planes and helicopters were redeployed before the strike, and most of the troops moved into the desert and watched the passing missiles. Thus, the effectiveness of the Iranian attack was seriously undermined, human lives and expensive equipment were saved.
The video shows how the first and second missiles hit the Bravo area (hangars). The third and fifth missiles hit the Charlie zone (hangars, offices, living quarters, canteens and toilets). The fourth rocket arrives at the Voodoo zone (hangars, fuel and lubricants warehouse). The sixth missile hits the rescue center, maintenance facilities and the Valley area gym.
The video was likely captured by one of several MQ-1C Gray Eagles drones in the air at the time. The strikes damaged fiber lines connecting ground control stations at the base to satellite terminals, cutting them off from the drones. This may explain why only six of the 11 mentioned hits are visible on the video.
There weren't enough bunkers for everyone. Each such shelter is designed for 10 people. Johnson said that 40 people gathered near one of these bunkers, who persistently tried to get into it. He and other officers talked about their feelings that they experienced during the event.
No one fully understood the scale of what we might face. We might not get over it
Said Air Force Captain Adella Ramos, Flight Chief of the 443rd Air Expeditionary Squadron.
If the Americans were killed, everything would be very different. We had a plan for revenge
- stressed the head of CENTCOM, hinting at the possibility of a war between the United States and Iran.
Subsequently, the US Army deployed air defenses in Iraq, including the Patriot air defense system, to protect itself from further missile attacks.