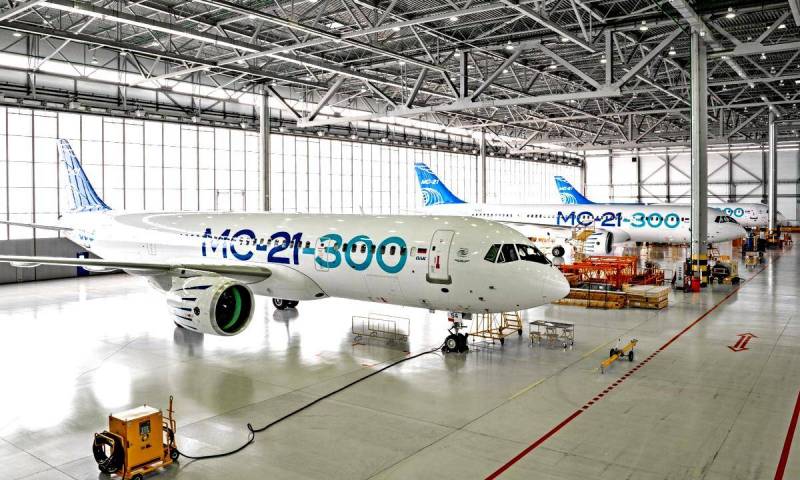 The Russians expect to start mass production of the first post-Soviet medium-haul liner MS-21 in 2022. They had to delay the implementation of the project for 1,5 years due to US restrictions, writes the American agency Bloomberg.
We had to create our own production. We developed the material and made our wing from it
- said the general director of the state corporation Rostec Sergei Chemezov in an interview taken during IDEX 2021 in the UAE.
Until 2018, composite materials were supplied to Rostec's subsidiary by companies from the United States. But Washington imposed sanctions against this enterprise and put Chemezov on the "black list" as working in the KGB in the GDR along with Vladimir Putin. However, the restrictions did not affect the relationship between the American company Boeing and the Russian titanium producer VSMPO-Avisma (25% of the shares belong to Rostec).
Chemezov believes that the Joe Biden administration shows no intentions to weaken the anti-Russian sanctions
policies
, but this will not interfere with the real triumph of the MS-21 liner. It is difficult to disagree with this opinion, the American press notes. In December 2020, the airliner took to the skies on Russian PD-14 aircraft engines. Now MS-21 with domestic power units is undergoing certification tests.
The MS-21 family of aircraft, which includes two models (MS-21-200 and MS-21-300), is being developed by the same subsidiary of Rostec, which runs the program of the Sukhoi Superjet regional aircraft - United Aircraft Corporation PJSC. MS-21-200 is designed for 132-165 passengers, and MS-21-300 accommodates 163-211. The liners are capable of flying 6400 km and 6000 km, respectively. The MS-21 project should become a competitive response of Russians to the European A320neo from Airbus and the American 737 Max from Boeing.
Chemezov added that the state corporation wants to increase the share of civilian products from 33% to 50% by 2030. Therefore, Rostec is increasing production in different areas, summed up the media from the United States.