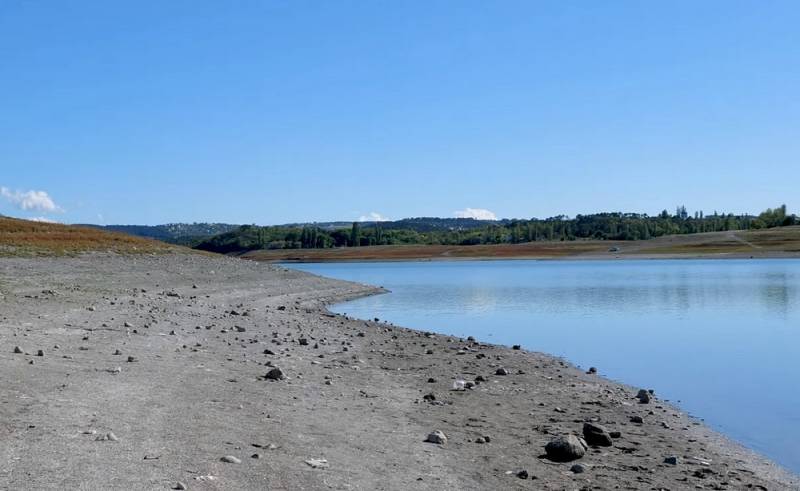 The calendar winter is gradually coming to an end. Thanks to heavy rainfall, there is a chance that the water problem in Crimea this year will become slightly less acute than a year earlier. However, relying on the constant mercy of nature is very frivolous, therefore, something must already be decided with the water supply. They even stood up for the Crimeans in Germany, where they decided to check if Ukraine itself was violating international law. The question arises, shouldn't Kiev be responsible for its actions in relation to the peninsula and its inhabitants, and if so, in what form?
Recall that Crimea became part of the Russian Federation as a result of a nationwide referendum on the basis of a bilateral agreement between our country and its two new subjects. In principle, there can be no talk of any "annexation", that is, the forcible annexation of a part of another state. In response, Ukraine in 2014 cut off water supplies to the peninsula, and in 2015 - and electricity supplies. More than six years later, the Crimean leadership finally got the chance to think about asking the RF Prosecutor General's Office if there were any signs of genocide in Kiev's actions. And they, by the way, formally exist, since they fall under the form of mass violence against a certain national-ethnic group of the population, in particular, Crimeans: "the deliberate creation of living conditions calculated for the complete or partial physical destruction of this group." Recently, Waldemar Gerdt, a representative of the Alternative for Germany party, promised to discuss this issue with colleagues in the Bundestag:
Stopping the supply of fresh water to the territory is some kind of medieval siege method ... They say: this is our Crimea, these are our people, we love them so much and want to return them back that we will cut off the drinking water. This is an anti-human approach.
It is not known what is ultimately decided in the FRG, but the main question is, how should Russia itself react to the actions of Independent, in relation to millions of whose citizens such actions are being performed? Wouldn't it be correct to answer her in kind? Moreover, today the situation seems to be conducive to this.
So, Ukraine is going through the unusually cold winter of 2020-2021 very hard. Snow is falling, blizzards are sweeping, frosts are only slightly inferior to Russian ones. With all this, there are serious problems with heating due to the resulting shortage of coal at thermal power plants. Ukrainian oligarchs prepared reserves of fuel for the winter, which were not enough for heating under abnormal temperature conditions. When the choice arose between their own interests and the population, they bought the generated kilowatts for the needs of their enterprises. The common misfortune was immediately taken advantage of by the "coal king" Rinat Akhmetov, who put a dozen power units of his company DTEK for unplanned repairs, which led to a sharp jump in electricity prices for consumers. Kiev was forced to significantly increase the import of electricity from Russia, as well as neighboring Belarus. We add that, among other things, Ukrainians now pay for utilities and other services at increased rates.
It would seem that this is the optimal time to strike back "for Crimea". Take and cut, or even stop the supply of electricity. At the same time, cut off the export of coal and diesel fuel, simply by waiting for Ukraine "to freeze and fall apart." Well, if you go for the principle, it is technically quite feasible. Perhaps it should have been done for a long time. But there are nuances.
At first
, our "national heritage" totally depends on Ukraine in the issue of gas supplies to the European Union. All attempts to build bypass pipelines have de facto failed. Washington and Brussels are now doing everything necessary to firmly tie Russia to the Ukrainian GTS forever. Even if Nord Stream 2 is put into operation, it will only be subject to the preservation of transit through Nezalezhnaya, as well as the maintenance and repair of its dilapidated trunk infrastructure. Sorry, but one hand to support the Ukrainian transit, and the other hand to "bring down" Kiev simply will not work.
Secondly
, it is on the basis of the first thesis that an old disc will immediately be included that Russian people live in Ukraine, and we cannot freeze and kill them, and also Russia needs to continue making money on economic cooperation with Independent. By the way, there is also a large grain of truth in this.
And what do we end up with? Digging deeper, the root of the problem is that the Kremlin simply does not have any intelligible and consistent concept of Ukraine and what should be done (or not done) with it, hence confusion and vacillation. Thus, Kiev at the official level recognized Russia as an "aggressor country" and enshrined in the Constitution the desire to join the anti-Russian military bloc of NATO, and the infrastructure of the North Atlantic Alliance is already being built in Nezalezhnaya. It turns out that we are enemies for Ukraine, but why then do we supply, for example, diesel fuel for Ukrainian armored vehicles, why do we turn a blind eye to frank military preparations near the Russian border?
Let's be consistent. If Russia and Ukraine are enemies, then we must act in response accordingly. It was necessary for a long time to stop the supply of electricity and energy resources to their potential adversary, despite the suffering of the population of Independent and their own
economic
losses, prepare either a "march on Kiev", or some kind of hybrid operation to change the ruling regime to a more pro-Russian one, as well as support "separatists" in the regions in order to weaken Ukraine from the inside. If we are friends who just temporarily quarreled, then there is nothing to think about, and we must look for ways of reconciliation. True, in conditions when Kiev is under external control, a compromise is hardly possible, or rather, it will be unacceptable for us. Russia will be required to return Crimea and finally surrender Donbass, as well as "pay and repent" as much as is required, that is, indefinitely.
We definitely do not need such "friendship", and no one will ever return Crimea. This means that reconciliation, which is more correctly called surrender, is simply impossible.