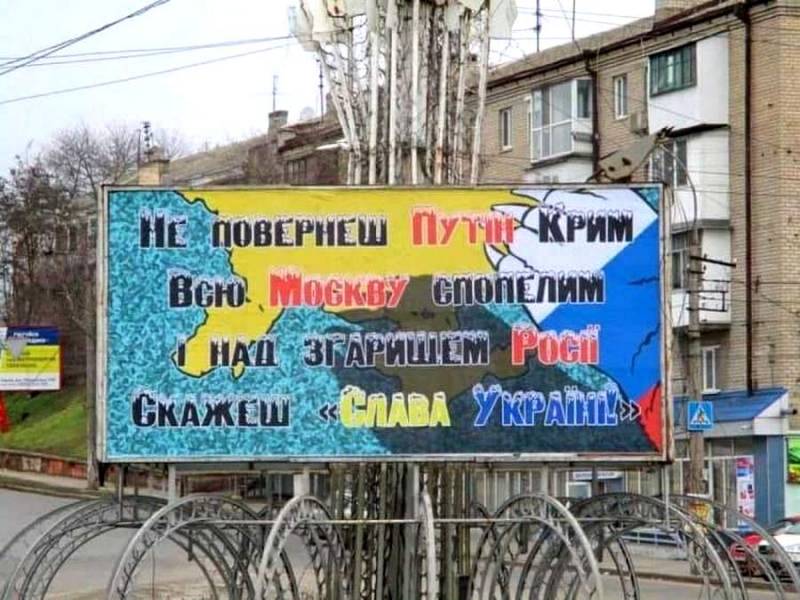 In the Kherson region bordering Crimea, local authorities "decorated" the streets with anti-Russian posters threatening to burn Moscow down if Ukraine does not get back the Crimean peninsula. Aleksey Zhuravko, a former deputy of the Ukrainian parliament, told about this in his blog.
"If you don't return Crimea to Putin, we will incinerate all of Moscow. And over the conflagration of Russia - Say "Glory to Ukraine!"
- appears on the poster as an appeal to Vladimir Putin.
The ex-deputy called this action of the Ukrainian "hurray-patriots" stupidity and incitement to hatred between Ukraine and Russia, as well as between the peoples of these states, instead of looking for ways to reconciliation and points of contact between Kiev and Moscow. Zhuravko also spoke about such posters as a shame for those who installed it, and for those whose hot heads came up with the idea of ​​such boards.
In early February, former Georgian and Ukrainian politician Mikheil Saakashvili expressed in Savik Shuster's program the opinion that the Kremlin might move troops to Kherson and Mariupol in response to Kiev's banning of "pro-Russian" TV channels. Thus, according to Saakashvili, Putin will be able to solve the "water problem" of the Crimeans and strengthen his rating, which has dropped due to the events related to Alexei Navalny, as well as the situation in Khabarovsk and other Russian cities.