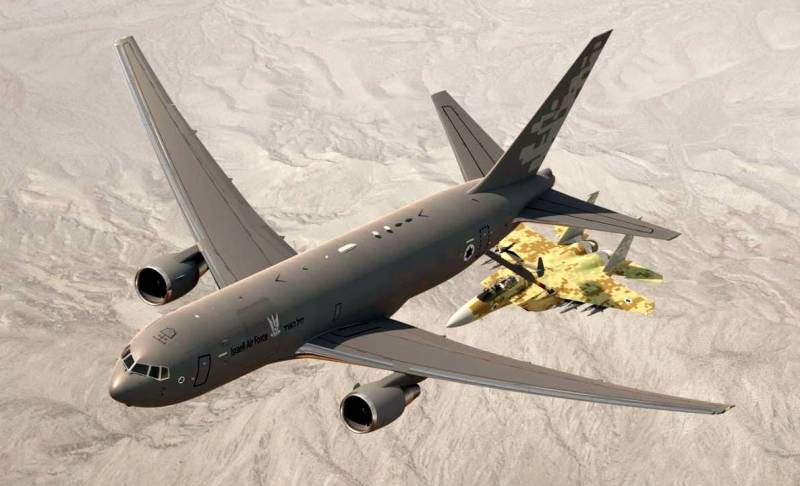 For several weeks, speculation lasted about the possibility of a large order by the Israelis of new American military aircraft. It has now emerged that the Israeli government has approved plans by the military to purchase another squadron of F-35I stealth fighters and a pair of KC-46 Pegasus tanker aircraft from the United States, writes the American edition of Military Watch.
In addition, Tel Aviv has approved the purchase of new heavy-duty helicopters, although their class remains uncertain. The contenders are Boeing CH-47 Chinook and Sikorsky CH-53K King Stallion.
Tensions with Iran have been cited as a major factor in the urgent modernization of Israel's air force. Most of Iran's territory is out of reach of Israeli fighters.
Tel Aviv's arms purchases indicate the possibility of an imminent war. Tankers KS-46 will allow the Israeli Air Force to reach any targets throughout Iran, increasing the offensive potential. Israel has about 200 F-16s and about 20 F-35I units (50 units were previously ordered).
Tehran has one of the most powerful air defense systems in the Middle East. This is probably what influenced Tel Aviv's decision to spend additional money on the F-35I. This fighter is better suited to combat ground-based air defense systems.
However, the F-35 is still
very far
from full combat readiness and is criticized even by the Pentagon for a lot of problematic points. The US military is thinking about reducing the order by 40% from the planned level.
In addition, there is information that the Iranians tracked F-35s flying near the borders of the country using the Russian radar "Resonance-NE", designed just to detect stealth aircraft.
The Israeli purchase comes after the Donald Trump administration provided Tel Aviv with $ 2020 billion in aid in 3,3 through the Foreign Defense Funding Initiative (FMF), according to which most of the money is to be spent on weapons from the United States.