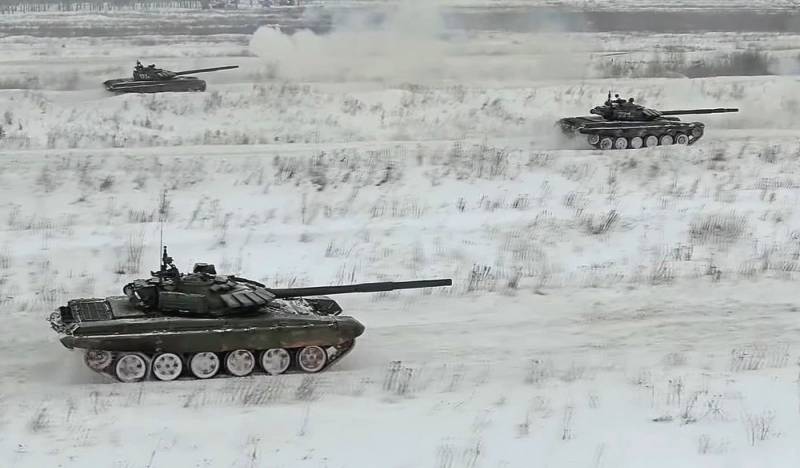 The T-72, first adopted by the Soviet Army in 1973, went through several stages of modernization. Since then, more modern tanks have entered the Russian army, including the T-80 from 1976, the T-90 from 1993, as well as the fourth-generation T-14 tank, and Russian gunsmiths required extensive technical improvements to bring the T-72 to the level of a tank
equipment
new generation.
The most "advanced" of these modernized versions of the T-72 today are the T-72B3, which has been in service since 2010, and the newer T-72B3M, which entered the Russian Armed Forces in 2017.
The modernization of the T-72B3 provided combat capabilities that were in many ways superior to those of earlier versions of more modern tanks, such as the basic modifications of the T-80 and T-90. The main improvements of the T-72B3 concerned its firepower and weapons control systems. The tank received an improved Kalina fire control system, a new turret control panel, improved sights, panoramic multispectral sensors PNM "Sosna-U" with built-in laser rangefinders, as well as a new weapon compatible with 9M119M missiles.
Meanwhile, according to Military Watch Magazine, the 125A2M46's new 5mm cannon has performance comparable to some of the world's newest and most technically advanced battle tanks, including vastly improved stability, and can use a wide range of new types of ammunition designed for new generations. tanks. The T-72B3 also has a built-in reactive armor "Relic", similar to that used in the latest versions of the T-90 and T-80, and provides improved protection.
40 years ago, the T-72 was considered ahead of its time, and even the export options in the Iraqi army proved to be almost completely invulnerable and had an overwhelming performance advantage over the last available Western export tanks Chieftain and M60 during the Iran-Iraq war of 1980-1988.
The T-72 also proved to be very effective in combat during the Lebanese War of the 1980s when it collided with the Merkava I and M60 tanks and was named "the best tank in the world" by Syrian President Hafez Assad for its performance. This provided Russia with a solid foundation for maintaining the viability of the platform through modernization: the T-73B3 demonstrated how much older tank models can be improved to match or even exceed the capabilities of the most modern combat vehicles.
T-73B3 is the main tank of the Belarusian armed forces. He was also supplied as assistance to Syria to equip the 5th corps of its army, created with the support of Russia to fight terrorists. The T-72B3 was also exported as an upgrade package to improve the old T-72 in service with the Nicaraguan army.
The T-72B3 is currently the most widely used tank in the Russian troops, which are armed with more than 1300 units and about 7000 more can be relatively quickly put into operation (we are talking about the earlier modifications of the tank in storage). It is expected that the number of combat vehicles of this type in the Russian armed forces will continue to grow at a significant rate in parallel with the receipt of the new T-14 and T-90M.