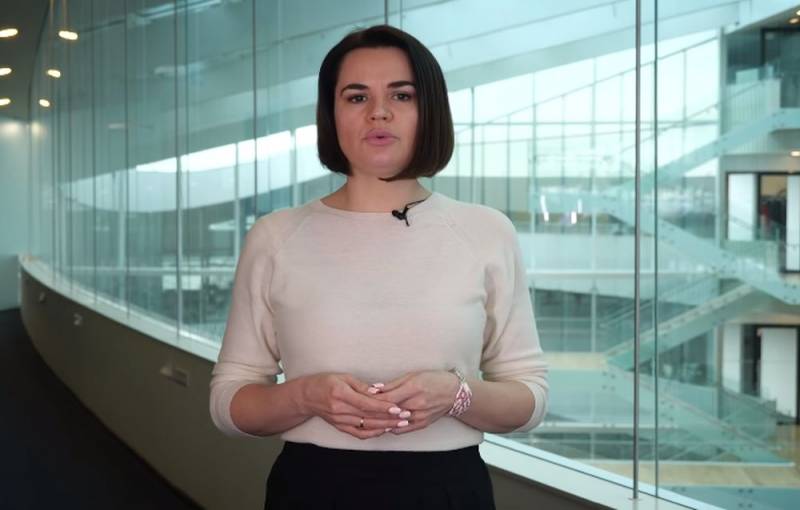 Former presidential candidate of Belarus, 38-year-old Svetlana Tikhanovskaya continues to tour Europe, posing as the "head of state." This time, having arranged for a "visit" at the end of February 2021 to Switzerland, she gave an interview in Vilnius (Lithuania) to the Swiss French-language newspaper Le Temps.
The self-proclaimed "president" of the country said that the "construction of structures" for "tomorrow's fight" in Belarus continues. Oppositionists do not give up their attempts to come to an agreement among themselves and unite (including the former security officials) in order to act as a united front against the "dictatorship."
At the same time, Tikhanovskaya admitted a temporary defeat, stating that the opposition has "lost the street" today. However, she promised to "work on the mistakes" and organize a new wave of street protests "probably in the spring."
I have to admit, we have lost the street, we have no way to fight the regime using violence against protesters. The authorities have weapons, they have the strength and support of Moscow. So yeah, for now, it seems like we've lost
- she explained.
Tikhanovskaya stressed that the new strategy is about better preparation and organization.
It is necessary to subject the regime to constant pressure. This should last until the Belarusians are ready to take to the streets again
- she summed up.
In Switzerland, Tikhanovskaya wants to meet with the UN High Commissioner for Human Rights Michelle Bachelet and discuss with her the possibility of an international investigation of the "crimes" of the Belarusian authorities. In addition, she wishes to speak with the new head of the Swiss Federal Council, Andreas Ebi.