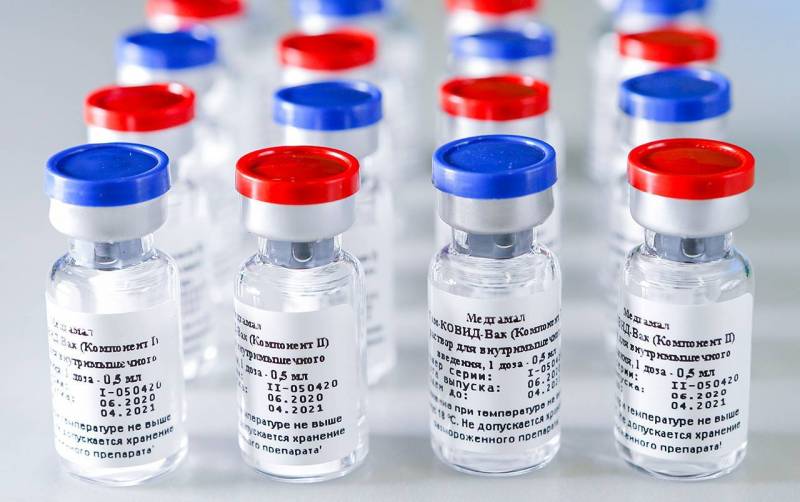 Russian leader Vladimir Putin may begin to reap
political
и
economic
dividends, since Moscow has achieved its most significant scientific achievement since the collapse of the USSR. Six months ago, no one believed in the Russian Sputnik V vaccine against COVID-19, but today it is a favorite in the world and states are lining up for it, writes Bloomberg.
The publication in the authoritative medical journal "The Lancet" instantly reduced the number of skeptics on the planet. In terms of effectiveness (91,6%), the vaccine was at the level of Western developments and much better than its Chinese counterpart. 20 countries have already approved the use of Sputnik V, including Hungary from the European Union. Brazil and India with gigantic populations are already on the brink of such a move. At the same time, Moscow is awaiting approval of the vaccine in the EU as a whole.
During the year, a dangerous infection killed more than 2,3 million people and the race to get the vaccine has acquired geopolitical significance. Most governments around the world are struggling to recover from the enormous economic and social damage caused by anti-epidemiological measures. This gives Russia an important advantage as one of the few countries where scientists have developed effective protection against a fatal disease.
It is too early to assess the political benefits that Putin could gain, but Moscow is already making widespread use of soft power. The vaccine has allowed Russia to begin cleaning up its image, tarnished after years of accusations of widespread and widespread interference. The Russian media broadly cover the deliveries of Sputnik-V to other countries.
But the vaccine's real success will not change the hostility towards Putin that prevails in Western political circles. But the vaccine could help increase Russia's geopolitical influence in regions such as Latin America, Asia and Africa.
The Russian authorities said they expect to provide Sputnik V with 700 million people in 2021. This will incredibly raise the authority of Russia, because Moscow has a product that is in demand all over the world. Moreover, this demand is so huge that it significantly exceeds the industrial capacity in Russia, the media summed up.