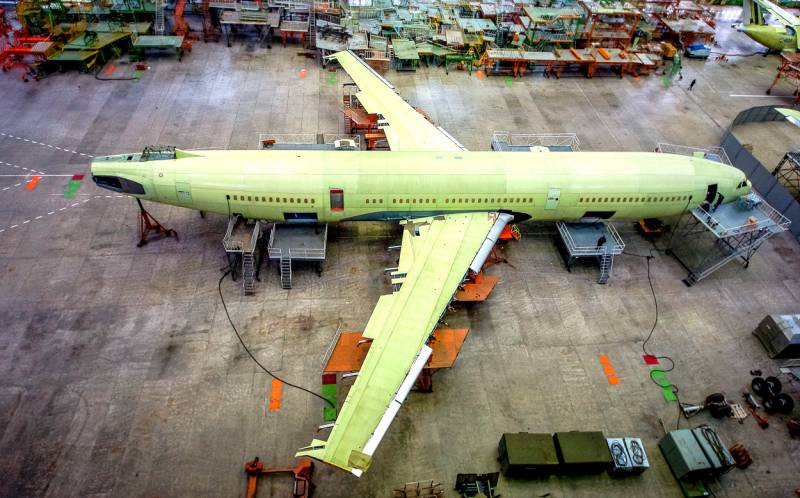 The current uncertainty surrounding commercial aviation due to the COVID-19 pandemic complicates the development of new aircraft. In the foreseeable future, the number of passengers is unlikely to return to the previous level, so the profitability of large airliners raises concerns, writes the British edition of Simple Flying.
Nevertheless, PJSC Ilyushin Aviation Complex is moving towards an important milestone in the creation of its 370-seat wide-body airliner, known as the Il-96-400M. This aircraft is a four-engine wide-body low-wing turbofan with a vertical single-fin tail and engine placement under a swept wing.
The Russians claim that this version of the aircraft will offer enhanced capabilities compared to the existing Il-96-300 "due to the lengthening of the fuselage and more powerful PS-90A1 engines." Apparently, the new aircraft will have a three-seater cockpit, like the previous version of the liner.
According to AeroTime, the Il-96-400M, which is due to make its first test flight at the end of 2021, is only one of two wide-body aircraft being developed by the Russians. The second is the joint Russian-Chinese CR929, the first prototype of which is promised to be assembled this year.
A potentially troubling problem that the Russians will have to overcome in order to commission the IL-96-400M is the current lack of customers. And this is despite the fact that in 2016 the Russian government invested 2,4 billion rubles ($ 30 million) in the development of the Il-96-400M. But this plane still has no orders.
This is due to the fact that competitors of the Il-96-400M, such as the Airbus A350-1000 and Boeing 777-9, have only two engines each, which makes them more
economical
... In addition, the Il-96-400M has a lower payload and flight range. With four engines, it will be difficult for him to compete. Nevertheless, the Russians are determined to pursue a project with a highly uncertain future.