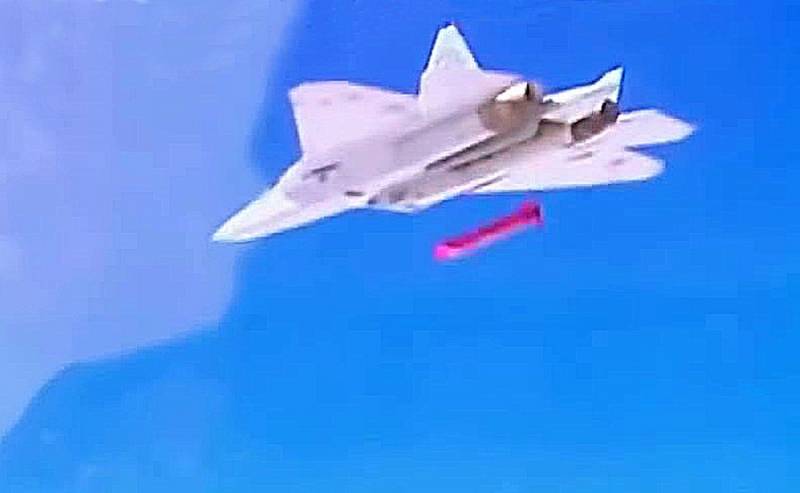 Russians
claim
that their fifth-generation Su-57 fighter has already begun testing the latest compact and maneuverable hypersonic air-to-surface missile, writes the American online edition The Drive, trying to find out what kind of ammunition in question.
Now we cannot say exactly what kind of rocket it is. However, it is known that hypersonic weapons usually use ramjet engines (ramjet) operating at speeds exceeding Mach 5. Probably, the Russians will eventually check the combat use of the new ammunition in Syria.
The size of the missile and its apparent optimization for the Su-57 suggest that it is one of the weapons that Russian Defense Minister Sergei Shoigu mentioned on February 9, 2021. The minister said that in the future, Russia's non-nuclear deterrent forces will be based on hypersonic missile systems of "various types."
We remind you that the Russian pilots are already armed with the excellent hypersonic missile 9-A-7660 "Dagger" (Kh-47M2 "Dagger"). But it is very large and at the moment it is only carried by the heavy high-altitude MiG-31K. Russia, based on the scientific breakthroughs of modern times and the achievements accumulated by the USSR, is going to make even more progress in this matter.
The internal compartments of the Su-57 are indeed very small (up to 4,3 meters) in length, and the existing hypersonic systems simply cannot fit there. From this, we can assume that the above-mentioned "functional" model is either a really completely new development, or a rocket that is associated with the Brahmos II (joint Russian-Indian development).
At the same time, Russia is working on other weapons adapted for the Su-57, including the Kh-58UShK medium-range anti-radar guided missile, and the Kh-69, an air-to-surface subsonic weapon for destroying targets up to 180 km away. ...