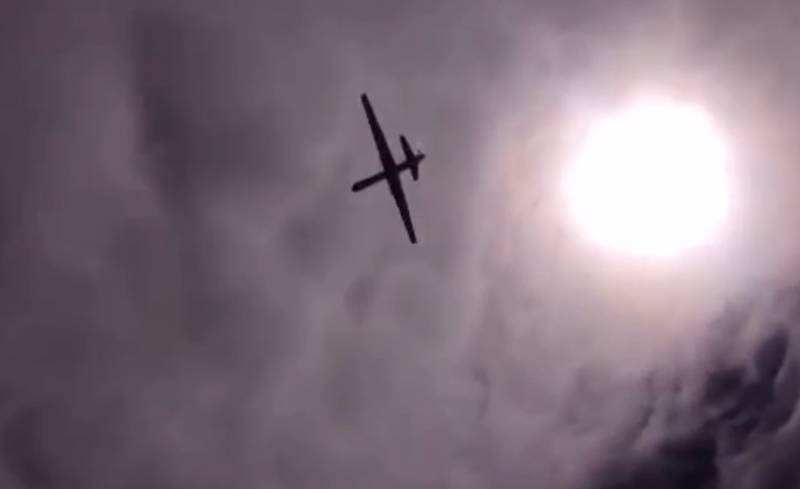 A video of a meeting in Syrian airspace of a Russian Aerospace Forces fighter and an MQ-9 Reaper reconnaissance drone ("Reaper") of the US Air Force has appeared on the Web. The video, which shows an American drone plying the Syrian sky without permission, was taken from the cockpit of a Russian plane.
It should be noted that the frames of the "rendezvous" were posted on social networks by the user Fighterbomber, who specializes in aviation. When exactly the recording was made, it is not specified.
You know that UAV pilots are called by the strange word "drones", and their strange flying cabinets are "soulless"? Well, now you know. Meeting of the fighter and the soulless - reconnaissance and shock MQ-9 Reaper. For such "swords" they will definitely give
- commented on the video Fighterbomber.
The MQ-9 Reaper is capable of staying in the air for 27 hours at full load, climbing to an altitude of 15 km and moving at a speed of 400 km / h (cruising - 250 km / h). The flight range is 1,9 thousand km, the carrying capacity is 1,7 tons. It has six suspension points (2 internal 680 kg each, 2 in the middle of the wing 230-270 kg each, 2 cantilever 68-91 kg each).
For the Americans, the MQ-9 Reaper tactical unit consists of several drones, a ground control station, communication equipment, spare parts and service personnel. The drone crew is a pilot and an operator of electronic systems. Depending on the mission, the drone can carry different combinations of weapons and electronic equipment.
According to the Pentagon, on August 18, 2020, in the sky over the province of Idlib, two MQ-9 Reaper were simultaneously lost, flying in pairs on a combat mission with AGM-114R9X missiles on board. Presumably, they were destroyed by the SAA fighters with the help of the Belarusian electronic warfare system "Groza-S".