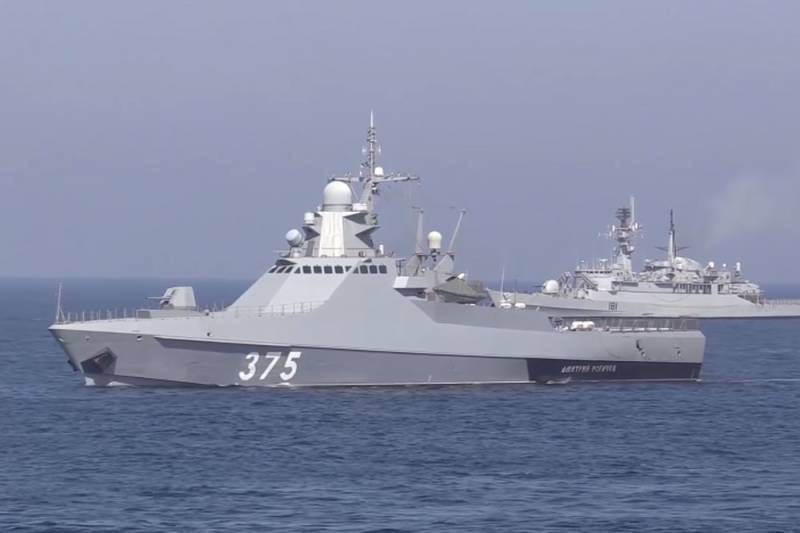 The Russian Navy took part in the sea part of the international maneuvers AMAN-2021 ("Mir-2021") in the Arabian Sea on February 15-16, 2021. The Ministry of Defense of the Russian Federation told how the exercises were held with the participation of the Russians.
It is noted that 45 countries took part in these exercises. In addition to the Russian Navy, the navies of the NATO countries, Indonesia, Sri Lanka, the PLA of the People's Republic of China, the Japan Self-Defense Forces and a number of others were present there. The event is considered multinational and non-aligned, so the Russian naval sailors had to be in the same ranks with their colleagues from the Alliance.
On the Russian side, the Black Sea Fleet formation took part in the maneuvers as part of surface ships: frigate Admiral Grigorovich (project 11356R), patrol ship Dmitry Rogachev (corvette project 22160) and rescue tugboat SB-739 (project 22870).
The Ministry of Defense noticed that in addition to the ships, the Ka-27PS helicopter of the Naval Aviation and the Black Sea Fleet Air Defense, which was on board the frigate, was also involved.
For two days, training was conducted on joint maneuvering with the formation of marching orders (the location of ships), interaction was practiced when repelling attacks from small high-speed boats. In addition, the sailors carried out actions to receive cargo from the supply vessel on the move, and also practiced countering piracy through practical firing from various artillery systems.
The Ministry of Defense explained that the main goals of the maneuvers were to strengthen and develop military cooperation in the interests of security and stability at sea, as well as the exchange of experience between military personnel in repelling various threats in areas of serious shipping and during search and rescue missions. This exercise was the seventh in a row and has been held since 2007.