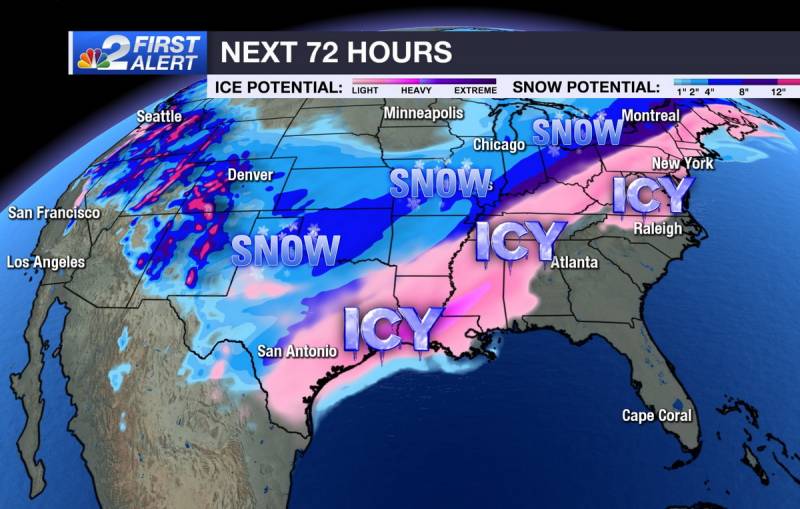 A half-meter layer of snow. Burst water pipes. Rolling power outage. Hundreds of accidents due to icy roads, which there is no one and nothing to clear. Frozen houses. No, these are not "communal horrors" of Russia, this is what is happening in the United States right now. Nature dropped a real "snow bomb" on the richest and most powerful country in the world, and it could not withstand the blow of the elements. What conclusions will be drawn from this? And will there be?
The United States is a large country, and the inhabitants of the northern and northeastern states are not surprised by frost and snow. The energy and transport collapse occurred when the Arctic cold moved further to the American South, which is absolutely not adapted to this. Louisiana, Texas, Arkansas, Missouri and Oklahoma were buried in the snow. In Texas, where February temperatures usually don't drop below 2 degrees Celsius, in the city of Houston it is now minus 8 degrees. This was a real disaster for the southern states, and in total, about 150 million Americans suddenly found themselves in the zone of abnormal cold weather.
Their entire way of life was suddenly destroyed. Streets and roads are covered with a thick layer of snow, which there is nothing to remove, since the snow removal
equipment
in the South there is no need. Due to the dramatic increase in the number of fatal accidents, the authorities urged the population to refrain from travel. The runways are closed, over three thousand flights have been postponed. Texas, the second largest state, has a state of emergency. Probably, his example will be followed in neighboring Louisiana. The situation is very serious and is not limited to snow alone.
Since homes in the American South do not have central heating and are not adapted to the cold climate, people faced with frost began to actively use heating appliances. Due to the fact that the blades of the wind generators were iced up and stopped, power generation was sharply reduced. Wind gusts led to numerous wire breaks. Almost 4 million Texans, 300 Oregonians, and tens of thousands in other states were left without electricity and water in their homes. And the problem is not only large-scale utility accidents. In Texas, due to subzero temperatures, shale wells were simply frozen and refineries stopped. Oil immediately jumped in price, the production of which decreased by 1,5 million barrels per day. Spot prices for electricity for residents of the state at the moment increased from $ 25 per megawatt to $ 9 thousand. Incredible numbers.
In an amicable way, this extraordinary situation should call into question the "New Green Deal" proclaimed in the USA. The American energy and transportation infrastructure has shown its unpreparedness for natural anomalies. The solar panels are covered with snow, and the icy blades of wind generators now have to be literally processed from helicopters with non-freeze. What conclusions can be drawn from this?
This "snow bomb" is a direct consequence of the climate change process. What has happened now can easily happen again, or even on a larger scale. The American South was under attack, Europe and Southeast Asia are now suffering from an abnormally cold winter. No one will deny the usefulness and necessity of wind and solar energy, but it is not a panacea. A complete rejection of traditional generation in favor of green generation risks causing huge problems in the future. It is possible to build wind turbines, install solar panels on the roofs of houses, but at the same time continue to use the peaceful atom, natural gas, and in the future - hydrogen, diversifying the sources of electricity generation as much as possible. And, of course, it is necessary to prepare the infrastructure for such force majeure situations, which have a chance to become regular.