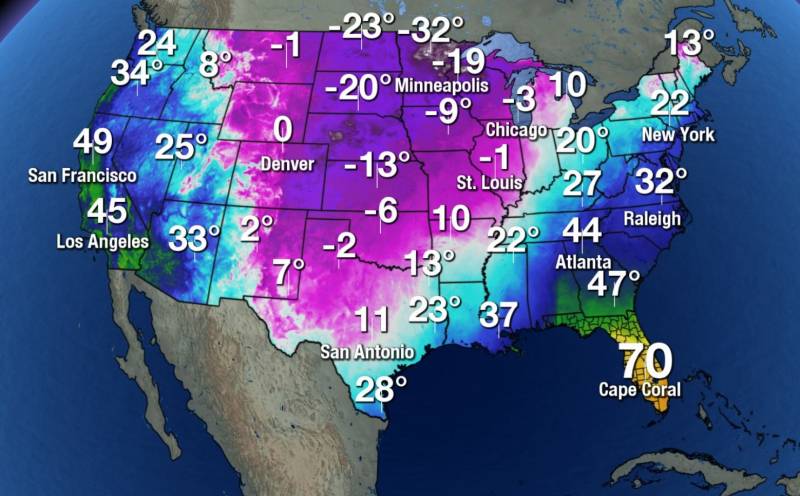 The Arctic front, which has entered the United States, continues to rage in a number of states. Over the past day, about eight hundred temperature anti-records have been recorded in the country. Severe frosts led to the shutdown of oil and gas wells, which led to a drop in production by 8%.
At the moment, more than 70% of the US is covered with snow.
Due to severe frosts in the United States, gas supplies to LNG plants have dropped to lows in the last four months. Arctic cold in the southern United States is blocking seaports and wells, boosting domestic demand. At the same time, the power consumption of electricity is growing, bringing the country to the brink of energy collapse.
According to Bloomberg, the volume of gas supplies to most LNG plants fell, the largest decline occurred at the Cove Point, Freeport, Elba Island and Corpus Christi plants - from two to four times.
In the spring and early summer, due to an oversupply of gas fuel and a drop in demand for it due to the coronavirus pandemic, American LNG consumers reduced their purchases, lowering the export of liquefied gas from the United States to 70 million cubic meters daily. In the second half of 2020, demand and prices began to rise, and in January the United States reached a record level of gas sales in foreign markets of 310 million cubic meters.
Meanwhile
, due to the Arctic frost in the United States, the level of electricity consumption in Texas approached 70 GW, setting a kind of historical record. The wholesale price of electricity soared to $ 9 per MW, gas - 13,3 per cubic meter, and the authorities in the southern regions are initiating blackouts. Because of the cold weather, wind turbines fail and oil and gas wells freeze, and the United States is close to an energy collapse.