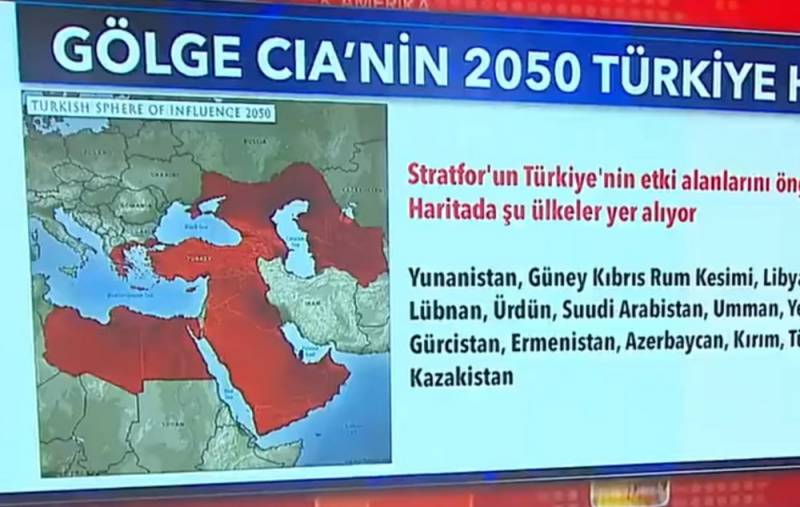 The Turkish media published a "map of influence" of Turkey by 2050, compiled by the American analytical agency Stratfor back in 2008. On it, among other things, parts of the Russian territory were transferred to the jurisdiction of Ankara: Crimea, Astrakhan Region, Kalmykia, the North Caucasus and Kuban. Turkey has assured that it does not lay claim to the regions of Russia.
The map drawn up by the Americans was perceived by many in Russia as a "threat" to the country's security. A number of Russian officials did not fail to take the opportunity to make claims to Ankara for great-power ambitions.
Thus, the deputy of the Russian State Duma Pavel Shperov did not rule out that the Turks are planning to return a number of regions that they owned three centuries ago, and noted the need for an adequate response from the Russian Foreign Ministry to the map of "Turkey's spheres of influence by 2050".
Andrei Krasov, deputy chairman of the Russian State Duma's defense committee, questioned Ankara's practical implementation of the plans outlined in the map and called on Turkish officials to study the history of Russia and realize the impossibility of taking away Russian territories by force of arms.
First Deputy Chairman of the State Duma Defense Committee, Alexander Sherin, believes that such inclinations of Turkey should be taken seriously, since after the victory in Nagorno-Karabakh, Ankara, who believed in its strength, indicates where it can go next.
The Turkish edition of Haber7 notes that the Russian media erroneously attributed the report on the "map" to the state television channel TRT, in fact
news
was published by TGRT Haber. Many readers of the publication noted that the goal of the forgotten publication of the Americans is to turn Turkey against Russia.