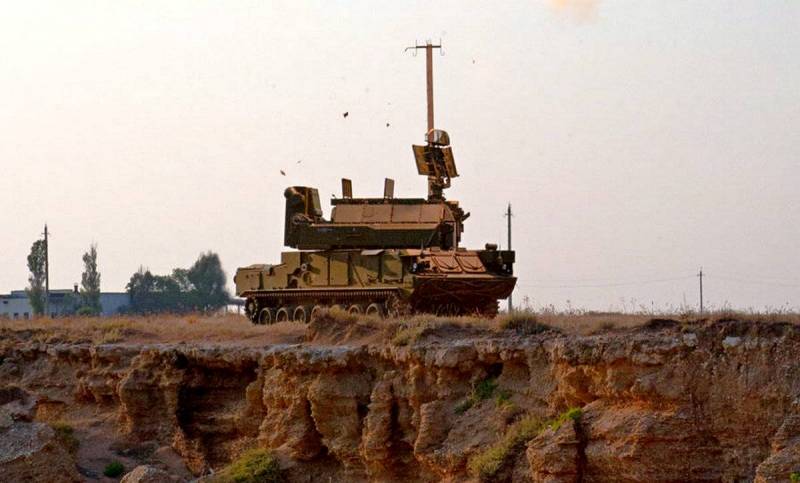 The deeply echeloned air defense system of the Russian Khmeimim airbase in Syria demonstrates its effectiveness. This is stated in the material of the military blog Análisis Militares from Spain, which published an infographic demonstrating the saturation of the object with air defense.
Recent attempt by militants
shell
airbase with long-range ammunition for MLRS, ended in vain. At the forefront of the Russian air defense are the Pantsir-S1 self-propelled air defense missile systems and the Tor-M2 tactical air defense systems of the divisional link, which do a good job with the assigned combat missions, destroying enemy missiles and drones. They complement each other qualitatively.
The ratio of "Armor" and "Torov" is 2 to 1, which indicates the absence of claims from the Russian military to the ZRPK. Given that the airbase
expands
it is possible that additional means of detecting, neutralizing and monitoring airspace will appear on it.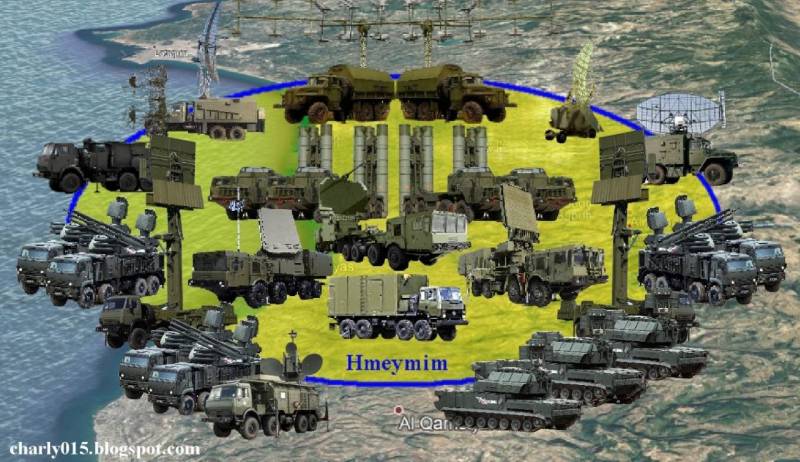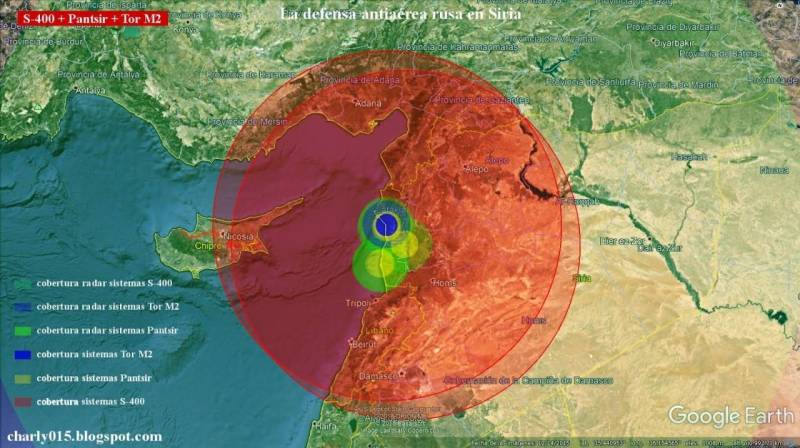 Radar type FAR ZRPK "Pantsir-S1" sees flying objects at a distance of 80 km. Up to 6 wheeled vehicles (battery) "Pantsir-C1" can work together via a digital communication network in different modes, creating a shield effect. Missiles can shoot down targets at a distance of up to 20 km (altitude up to 15 km), and paired 30-mm anti-aircraft guns operate at a distance of up to 4 km.
In turn, the "stuffed" SAM 9M338 (16 units in each) tracked four-channel noise-immune "Tor-M2" have a range of 16 km (height - 10 km). They solve any anti-aircraft and anti-missile missions at a specified distance.
In addition, there are electronic warfare / electronic warfare equipment at Khmeimim. For example, the complexes "Krasukha-4" and "Repellent". Their use in conjunction with air defense systems and various radars significantly increases the efficiency of the entire air defense system, making it monolithic.
Completing the integrity of the Khmeimim air defense system is the S-400 air defense system, which is a means of long and medium range of detection and destruction. However, they have not yet been used due to the lack of suitable targets for destruction. There is simply no point in using the S-400 on small drones. The declared detection range of enemy targets is 600 km, and the coverage area for its missiles is up to 400 km. At the same time, in the West, Russians are criticized in every possible way for allegedly exaggerating their characteristics. However, no one has yet dared to check this, so Khmeimim is very reliably protected.