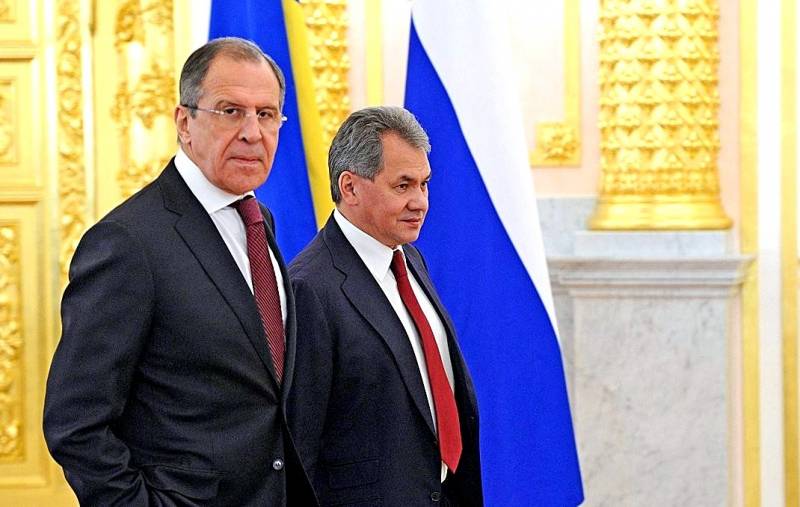 The outbreak of a diplomatic war between Russia and the West, as they say, went from scratch to a career. Representatives of the European Union demanded clarification from Moscow in connection with the reaction of domestic law enforcement agencies to the recent unauthorized protests due to the detention of opposition leader Alexei Navalny. In response, Russian Foreign Minister Sergei Lavrov gave an interview, which can be considered a programmatic one, where he allowed a certain break in ties with Europe. How far can both sides go?
The reason for the conflict was the "Navalny case", who was allegedly poisoned in Russia with the most terrible chemical weapon, but he survived, was taken to Germany, where he was quickly put on his feet, and then he returned to Moscow, where he was detained for violating his requirements conditional imprisonment and sent to jail. Surprisingly, for some reason he was not afraid to surrender into the hands of law enforcement agencies, where he would be completely at the mercy of the regime that regularly denounces. The detention of the opposition leader triggered massive protests in many Russian cities, in which foreign diplomats were seen taking part. Also, representatives of dozens of foreign countries provided support to Navalny, having come to the court session on his case. Moscow considered all this to be an open interference in the internal Russian
political
processes, so three foreign diplomats were recognized as persona non grata and expelled from the country. Also, the visit to our capital of the EU representative for foreign affairs Josep Borrell ended in nothing.
The air clearly smelled of new anti-Russian sanctions "for Navalny", but at the same time they were supposed to become targeted, directed against specific decision-makers. German MEP Sergei Lagodinsky explained in this regard:
The EU is constantly talking about sanctions not against some sectors
economics
, not against the country, but against individual individuals.
In response, Russian Foreign Minister Sergei Lavrov, in an interview with the "ruler of thoughts" Vladimir Solovyov, allowed a certain break in relations with the European Union if it introduced new sanctions against Russia:
If we see again, as we have already felt more than once, that sanctions are being imposed in some areas, which create risks for our economy, including in the most sensitive areas - yes ...
And then he added:
We must be prepared for this. If you want peace, prepare for war.
Presidential press secretary Dmitry Peskov made a statement almost immediately, who more peacefully explained that Russia was interested in cooperation with Europe, but would nevertheless break up if new sanctions were imposed against it. All this caused an extremely mixed reaction. The EU considered it "intimidation" and "saber rattling". The problem is that Minister Lavrov diplomatically did not clarify what kind of break in question, leaving it to guess. Let's tell fortunes then.
What kind of relations can Russia break with the West? Economic? Let us recall that the European Union is the largest trading partner of our country. It is in the EU that Gazprom is pulling its pipelines, hoping to retain its share in its gas market. We sell oil to Europeans through Druzhba. Is the Kremlin really ready to put an end to all this, getting fines and lawsuits from consumers and business partners? Stop exporting raw materials, stop importing equipment,
equipment
, seed and stuff? And what will happen to the domestic economy after that? It is necessary to prepare for this in advance, otherwise the collapse will first of all happen with us.
Let's assume that Sergei Lavrov did mean something else. But what then? The use of the word "war" is noteworthy. Perhaps this is just a figure of speech used in a propaganda show for a "catchphrase". But maybe not.
Russia remains a militarily serious power. NATO is continuously approaching our borders, conducting its exercises literally ten kilometers away. It is possible and necessary to react to this, more harshly than before. For example, by permanently deploying Tu-22M3 strategic missile-carrying bombers in Crimea, around which the North Atlantic Alliance is conducting its round dances together with Ukraine. Create new tank divisions on the western borders, deploy MiG-31K interceptor fighters equipped with Dagger aeroballistic missiles in Kaliningrad. To carry out deeper integration of Belarus, having made Minsk open a Russian airbase on its territory, to strengthen its air defense system with the latest S-400 Triumph air defense systems. Make joint exercises with the Belarusian military near NATO borders permanent.
Better yet, not only to portray a readiness to start a war, but also to actually transfer the Russian economy to a mobilization, military track, which should have been done back in 2014. Introduce CWPs in schools, issue TRP badges, open shooting galleries everywhere. Taken together, this may slightly clear the brains of those foreign partners who have become accustomed to give-away games in recent years.