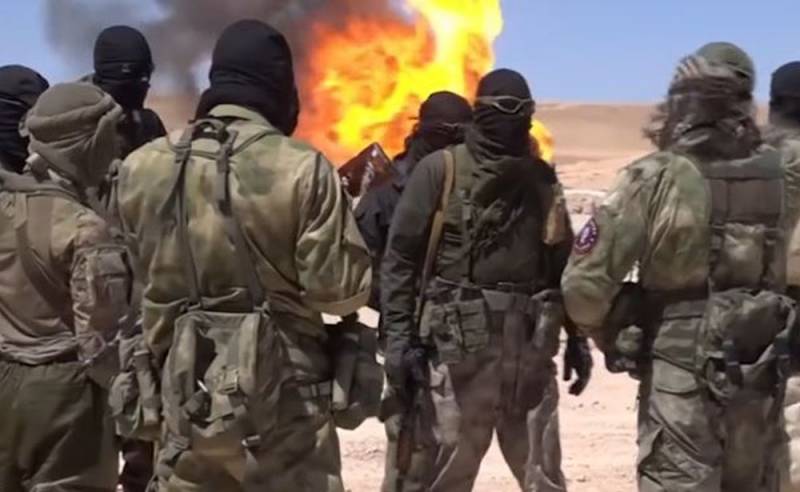 In the Syrian province of Deir ez-Zor, inscriptions in Arabic began to appear, calling for the return of the Russians and the Wagner PMC, since the local militia could not cope with the proliferating jihadists of ISIS (an organization banned in Russia). About this in his
блоге
written by Russian military expert Boris Rozhin, citing Syrian sources, including anti-government sources.
The expert drew attention to the fact that in the Arabic-speaking and English-speaking segments of social networks, pictures of folk (wall) "painting" on this occasion have already appeared.
Western propaganda has formed a stable mythology around PMC "Wagner". Moreover, in Arab and African countries PMCs are viewed as a panacea for solving various problems. Either the Egyptians dream that "Wagner" will clean up the Sinai, then the Syrians urge instead to clear the local desert
- Explained the expert.
Rozhin said that Wagner PMC is becoming a serious force in the Middle East, but the West is to blame for this. The expert drew attention to the fact that the West itself, and free of charge, promoted Russians around the world and is now surprised by the invitations of PMC "Wagner" to different countries to solve local problems. Moreover, the initiative comes from below, i.e. from people permanently residing in these territories, not from governments.
Calls for the return of the Wagner PMC fighters have appeared on houses in Deir ez-Zor province.

In recent months, the level of security in the region has significantly fallen due to the increased #ISIS activity.# Syria pic.twitter.com/389S8ifBQq

- Syria Today (@syria__today) -
According to the information available to the expert, Wagner PMC left the Deir ez-Zor area in December 2020. Immediately after this, ISIS jihadists materialized in the Syrian desert, and in large numbers. Road ambushes began. They shot passing buses with people in them. After that, the above inscriptions began to appear. They just paid attention to them only when there were a lot of them, and for combing the desert
involved
Russian Aerospace Forces and parts of the SAA