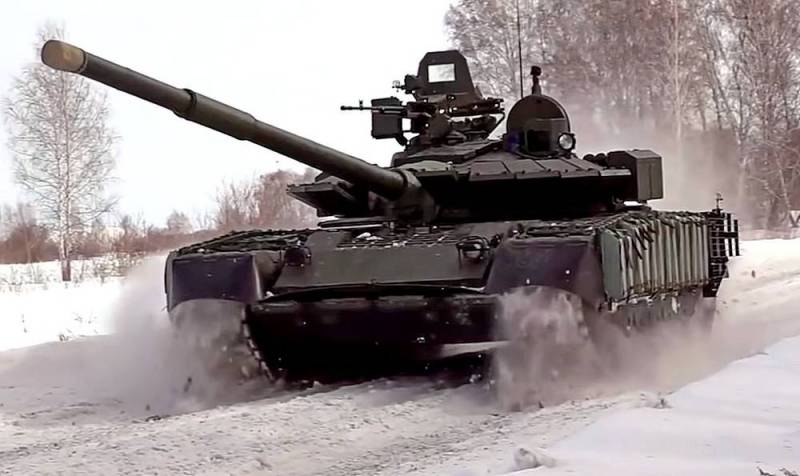 2021 marks the 45th anniversary of the T-80, one of the most powerful combat vehicles of the Cold War. In this regard, it is interesting to find out whether there is a future for this heavy gas turbine monster, writes the American edition of Military Watch.
The T-80 was developed on the basis of the T-64 MBT, but unlike the T-72, a lighter and cheaper version, the T-80 was expensive and heavy. This tank was intended exclusively for the USSR military and was not exported until the collapse of the superpower.
It is the world's first gas turbine-powered tank, which has given it both advantages and disadvantages. The combat vehicle turned out to be hardy, effective and tenacious in the harsh Arctic climate. However, the tank came out "gluttonous" in terms of fuel and operating costs, however, this is not surprising.
It was equipped with a 125-mm 2A46 smoothbore gun, which could fire both conventional ammunition and guided missiles. One of its features is the highly reliable "Basket" autoloader, which has reduced the crew to three.
Over the past decades, the design of the tank has undergone a number of changes. The combat vehicle has acquired a large variety of equipment with many functions. The T-80BVM can safely boast that it was developed for the T-90. For example, reactive armor "Relikt", an improved 125-mm cannon 2A46M-4, a new FCS, improved composite armor, gunner's sight PNM "Sosna-U" and other equipment.
About 330 T-80BV units and 150 T-80BVM units remain in service with Russia. Moreover, the Russians are stubbornly modernizing the T-80BV to the BVM version. The development of the Arctic gave a second life to these tanks. It is on the T-80 variants that Russian troops in the Far North rely to a large extent, whose power units can tolerate the harsh climate normally.
The collapse of the USSR prevented an ambitious program of re-equipping the tank with a new 152-mm cannon to increase firepower. But the unique suitability of the T-80 for work in extreme climatic conditions means that it will remain in service with Russia, at least until the end of the 2040s, improving in the process of operation, summed up the publication from the United States.