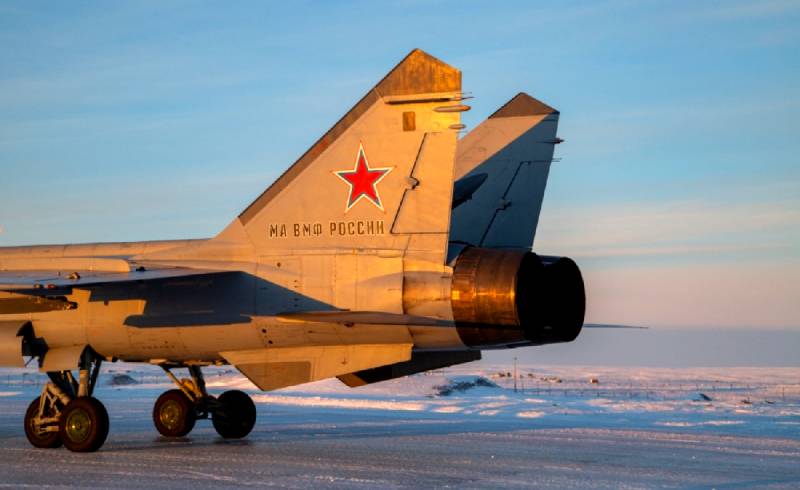 The Russian military carried out a rotation of the MiG-31BM fighter-interceptors at the Rogachevo airbase, located on the Novaya Zemlya archipelago (Arkhangelsk region). The airfield is located in the Arctic beyond the Arctic Circle and is one of two dozen similar facilities restored along the entire Northern Sea Route in recent years, writes the American edition of The Drive.
Moscow is strengthening its defenses in the High North. The Russians call the presence of their planes on Novaya Zemlya "experimental combat duty."
They extended the runway of the airfield to 3000 m and placed the MiG-31BM of the 98th mixed air regiment of the Northern Fleet there. Despite the harsh climatic conditions, the Russians have significantly increased the reach of their aircraft and dramatically expanded their control over the region's airspace. Novaya Zemlya is located in the Arctic Ocean between the Barents and Kara Seas. The archipelago stretches from southwest to northeast for 925 km.
MiG-31BM can fly at temperatures of -60 ° C. In the 98th mixed air regiment (based in Monchegorsk, Murmansk region), there are two squadrons of such interceptors since 2019. One squadron will be permanently located on the Kola Peninsula, and the second can be deployed on rotation in the right places.
Control over the Arctic, its transport routes and minerals is the most important issue for Russia. Climatic changes make it possible to start full-fledged development of the region. The MiG-31 was developed in the USSR just to protect the vast northern territories. Placing these planes in Rogachevo could be part of a larger Russian strategy to block other countries from accessing the region it considers its own.
After the MiG-31BM in the Arctic, the MiG-31K may appear - carriers of the Kh-47M2 "Dagger" hypersonic missiles. It is obvious that Russian aircraft are confidently becoming permanent "residents" of the Far North. It is quite expected that these and other fighters will be deployed at additional forward bases in the region in the future, summed up the US media.