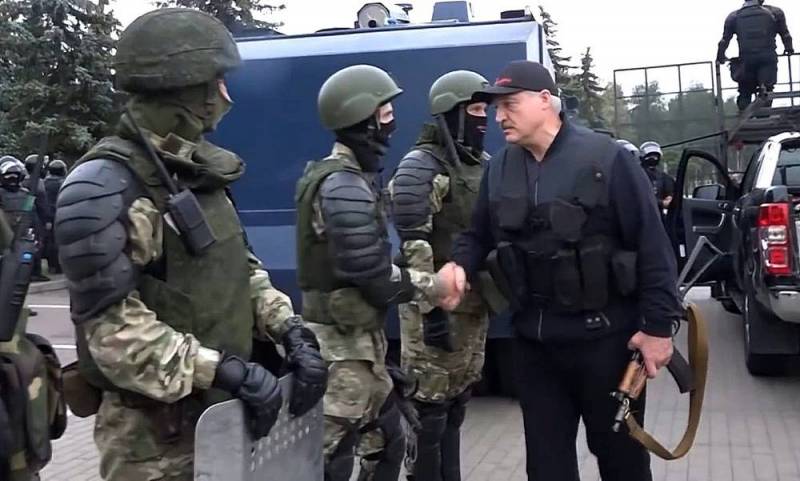 How quickly time flies ... It seems that only yesterday the first alarming reports of riots that broke out in Minsk began to arrive - but it turns out that we are already six months apart from these events. During this time, both rather peculiar "protests" and the law enforcement officers who firmly keep them under control have finally turned into familiar, everyday details of the Belarusian political landscape.
And the mournful demands for the immediate and unconditional surrender of Alexander Lukashenko by the "opposition leaders" who fled abroad and representatives of different sizes of Western "democracies" have become a common informational background that practically does not attract anyone's attention.
An attempt to arrange another "color revolution" in the "post-Soviet space" this time did not go according to plan, as a result of which the process "stuck" at a "dead center" and the further, the more it resembles some kind of game that has long bored all of her participants, but, nevertheless, does not end in any way. Some could put an end to it, but they are forced to adhere to certain rules that bind hand and foot. Others are well aware that they will not win the top, but they continue to play, since they benefit not from victory, but from participation itself. Such a strange, unfinished "revolution" turns out ...
From violent confrontation to fines and extradition
Of course, given the current balance of power, the "daddy" could easily squander and dispel all those who, with persistence worthy of much better use, continue to organize "weekend walks" with political overtones in opposition to him. I would give a command - and only scraps would go through the back streets ... However, he simply does not want to irritate the "world community" with his actions, and therefore acts slowly and without sudden movements, I would even say, insinuatingly. At the same time, however, those who are trying to fan the "revolutionary flame" over the ash-covered coals of the Belarusian "Maidan" long ago have less room for maneuver.
Very soon, from March 1 of this year, a new Code of Administrative Offenses, already approved by the President, will come into force in Belarus, which provides for serious fines, in particular for the use of white and red flags, which the country's Prosecutor General's Office recently recognized as an attribute of extremist symbols. And there is no doubt that it will be painful to "beat with the ruble" the "protestors" who do not want to calm down. Just yesterday, Alexander Lukashenko, meeting with the chairman of the Minsk City Executive Committee Vladimir Kukharev, asked a direct question: "What did the unauthorized mass actions that have been going on for half a year cost the capital and who, in fact, will pay for the damage caused to the city and its infrastructure?" In response, the mayor of Minsk gave specific figures: they "protested" for a million Belarusian rubles and a quarter, which amount is equivalent to more than 480 thousand dollars. However, the lion's share of this amount (980 thousand rubles or 370 thousand dollars) has already been compensated. Typically, not from the state or city budget, but from fines collected from the "revolutionaries".
Kukharev said that all these "irresponsible people" are being identified and brought to justice. So, for example, five citizens who defiled the sidewalk near the Pushkinskaya metro station with "protest" inscriptions paid almost 4 thousand dollars for this. Expensive, however, the pleasure came out ... I think the penalties for the "extremist" flags will be no less weighty. Belarusians are a hard-working, economical people, not inclined to squandering at all. When the "games of revolution" begin to empty their pockets very noticeably, many will probably wonder whether to continue. As for the "leaders of the opposition", the official Minsk is gradually beginning the procedure for persecuting them using available legal methods. From there, they have already applied for the extradition of a number of persons against whom criminal cases have been initiated in Belarus under extremely unpleasant articles, not the Administrative Code, but the Criminal Code. Latvia is asked to extradite Valery Tsepkalo, Poles - the founders of the inflammatory and provocative Telegram channel Nexta Stepan Putilo and Roman Protasevich. These, of course, are unlikely to be surrendered, but the head of the Investigative Committee of Belarus Mikhail Vavulo expects to talk to four of his compatriots, according to the orientations of the Belarusian law enforcement officers detained in Russia for organizing riots and resisting police officers, very soon. Found where to hide ...
The next, presumably, is the self-styled "president" Svetlana Tikhanovskaya, who is eagerly awaited in the Prosecutor General's Office to talk about the accusations against her and her closest associates of "creating an extremist formation" and "conspiracy to seize state power unconstitutionally." Brrrrr ... From some formulations of these a flock of Criminal Code - frost on the skin.
"Maidan" as a commercial enterprise
That is why the "president of Light" is unlikely to return to his native land. Despite the statements about a burning desire "to set foot on her native land", which she makes from time to time, Tikhanovskaya perfectly understands that no one will stand on ceremony with her there. The "oppositionist" became especially alarming after the far from soft "landing" of her "colleague in the shop" - Alexei Navalny, thundered all over the world. At this stage, the lady was seized by something like a slight hysteria, which brought her to the point that during a (virtual) meeting with the OSCE ambassadors, she began to demand from them some "special security guarantees" for returning to Belarus. She would have asked for a NATO tank battalion as an escort ... It is clear that neither Tikhanovskaya nor her accomplices, who have settled down with sufficient comfort in Poland or in the Baltic states, are not drawn to their father's doorstep in the slightest degree. Well, what should they do there? To slurp a balanda? Yes, what they initially counted on did not happen - "democratic Europe" to them as "
political
For some reason she did not accept refugees, and continues to keep them in her own "hallway". Svetlana Aleksievich, finding herself in Germany, is not an indicator. Nobel laureate after all. With all this, it is a sin for "fiery revolutionaries" to complain about the life of those who asked the snatch from Belarus like cockroaches (and they tried to tease Lukashenka!). Tea, do not live in poverty, do not starve, do not beg. And they don't work ...
And why, if the "Maidan" arranged by them brings a stable and very good income? Capitalizing a senseless and hopeless "protest" is, you know, "business" worse than financial "pyramids". And much more profitable, by the way. The Western countries, which completely deny their own interference in the internal affairs of Belarus, "pump up" the "opposition" there with huge sums only through official channels.
For example, as stated not by anyone, but by the head of the German Foreign Ministry Heiko Maas himself, Berlin has developed a whole action plan with the pretentious name "Civil Society of Belarus", for the implementation of which it intends to allocate up to 21 million euros. "Support for independent media", "psychological assistance to victims of torture" (you must agree, there is something surreal in such "help" from Germans to Belarusians), "granting scholarships to students expelled for participating in protests" - the program is quite broad. No, this is not an attempt to get into the internal affairs of a sovereign country that you are! Continuous struggle for democracy ... Of particular interest is its item as "collecting evidence against those who violate human rights in Belarus". That is, against representatives of the local "power departments". And this is no longer interference, but smells of natural espionage.
Other open sponsors of the Belomaidan include the Government of Canada. The foreign minister of this country, Mark Garneau, recently announced the amount allocated by it for "promoting democracy in Belarus" - 2.5 million Canadian dollars (or 1.76 million US dollars). It can only be assumed what part of these sums will stick to the tenacious little hands of representatives and representatives of the "revolutionary get-together" in the process of organizing a "struggle for democratic values" from a distance safe for their own organisms. Even if not a tenth, but a hundredth, it turns out, you see, very well. Why not "Maidan" on such harmless conditions? Someone will warm their bunks and pay fines, while others will show off at meetings with European bureaucrats and "master" the millions of "capital investments" of the West in a completely hopeless "color revolution".
It is not for nothing that Tikhanovskaya presents her Western masters from time to time and retransmits more and more new "victory strategies" for general information, one more delusional than the other. Gathering at the end of last month for a brainstorming session, skiers from the Coordination Council, the People's Anti-Crisis Administration and other ludicrous "revolutionary bodies", she announced in early February a new "master plan to overthrow the criminal regime." In accordance with this, "a new wave of protests will sweep the country in March." And already in April "Lukashenka will lose the support of his allies," and then he will end. Why exactly in April, and not, say, at the moment of entry of Aquarius into the constellation Libra or at the onset of Mercury retrograde? Tikhanovskaya does not explain. What can you do - political quackery "science" is even less accurate than astrology ... Most importantly, she and her accomplices "have almost finished work on the country's new Constitution" and promises the West "to hold new, fair elections in just 45 days." Naturally, with the help of the same "world democratic community" and with its money.
By the way, the "president of Sveta" is terribly unhappy with this very community and does not hesitate to make claims to it - she recently called his reaction to the "political crisis in Belarus" "very modest". The sanctions are weak, the threats are completely indistinct ... "People expected the West to be stronger and bolder!" - Tikhanovskaya says pathetically. What people? Rogues from various "committees", a bunch of political outcasts trying to set fire to an entire country? Tikhanovskaya, of course, is not interested in the opinions of millions of Belarusians, who have long been tired of the lewdness in the country worse than a bitter radish.
During one of his last public speeches, Alexander Lukashenko bluntly stated that if the current crisis is not resolved in the shortest possible time, the country may well "become a field of civil war, in which external players intervene to resolve their issues." This is exactly what those who have been "rocking" Belarus over the past six months are trying to achieve.