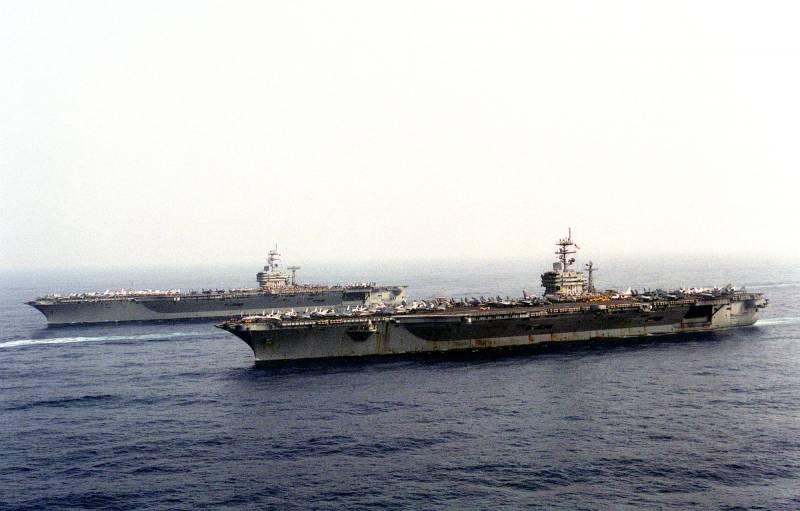 The strike groups of the aircraft carriers "Nimitz" and "Theodore Roosevelt" carried out joint maneuvers on Tuesday 9 February in the South China Sea off the Chinese coast. The exercise took place a few days after the passage of the US ship in the immediate vicinity of the disputed islands, which Beijing considers its own. The aircraft carriers are now located near China.
Since July last year, this was the first such action by two American aircraft carriers in these waters. In a statement, the US Navy notes that these exercises are aimed "at expanding the capabilities of command and control of strike groups", as well as "to increase the interoperability of forces and assets."
A few days earlier, the destroyer John McCain sailed through the Taiwan Strait, as well as near the Paracel Islands, which are under the control of the PRC. These actions were condemned by the Chinese authorities.
Washington frequently initiates "freedom of navigation" exercises in the South China Sea. According to the White House, China is unnecessarily "militarizing" the region and is trying to intimidate neighboring states (Vietnam, the Philippines and Malaysia), which also claim these maritime areas rich in various kinds of natural resources.
We are committed to ensuring that the (South China) Sea is used lawfully by all countries in accordance with international law
- said the commander of the aircraft carrier group "Nimitz" Rear Admiral Jim Kirk.