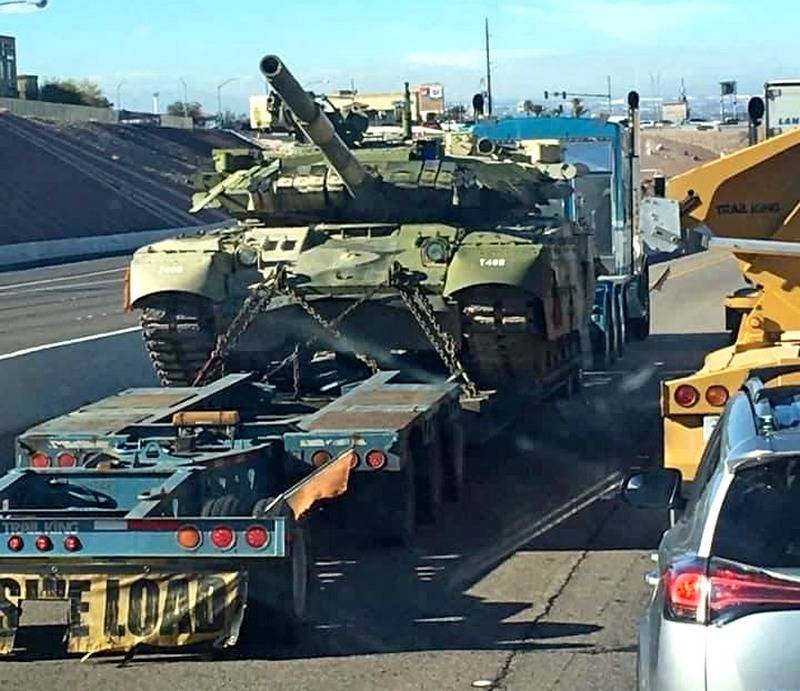 A fresh photo of a T-80UD tank from the United States was seen on social networks, which, according to sources, is being transported to the Yuma test site in Arizona. These combat vehicles were supplied by Ukraine in 2003 in the amount of four units and were equipped with an active protection system of the "Drozd" series, as well as modules of the then secret dynamic protection "Knife".
At the Yuma test site, many samples of combat
equipment
, including modern modifications of M1A2 Abrams tanks, Stryker armored vehicles, AH-64D helicopters, Bradley infantry fighting vehicles, as well as drones and high-precision ammunition. To assess the combat capabilities of military vehicles, samples of old decommissioned equipment, including Soviet-made ones, were used as targets and "experimental" specimens. Some samples of weapons arrived from the territory of Ukraine.
The tanks supplied by Ukraine to the United States actually corresponded to the technical characteristics of the T-84 Oplot tank, and to this day only one tank of this type has survived for the Americans. The rest, apparently, were destroyed during the tests.
"Knife" is a modular third-generation ERA for tank vehicles made in Ukraine, developed in the late 90s. Its peculiarity lies in the special composition of the explosive in the modules, which significantly increased the effectiveness of the remote sensing.