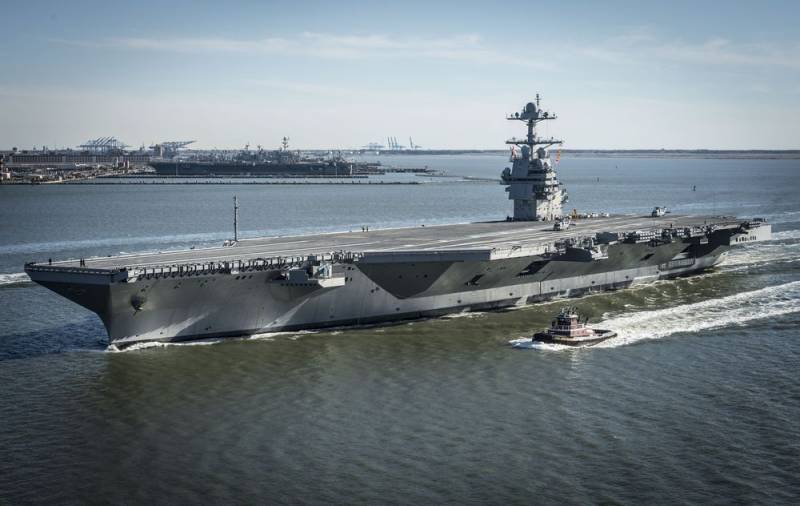 Экономическая
the effectiveness of the US aircraft carrier program is increasingly being questioned. Currently, the US Navy is considering the creation of a new class of aircraft-carrying ships based on the Gerald R. Ford-class aircraft carriers under construction, the American edition of Military Watch writes.
It is assumed that the new aircraft carriers will become much lighter, cheaper to build and operate, and their crew will be much smaller. To do this, it is proposed to cancel the construction of 60% of the planned number of giant ships and build more efficient ones, which will better project the US military power abroad.
The aircraft carriers of the Gerald R. Ford class are the most expensive warships in the world. The lead USS Gerald R. Ford (CVN-78), with a total displacement of 98,5 thousand tons, cost the treasury more than $ 13 billion. And this is without taking into account the fabulous cost of its aircraft wing and astronomical operating costs. It was commissioned in 2017, but, as of February 2021, it is still far from being operational.
It is not clear whether the lighter ships will be able to operate aircraft built for standard aircraft carrier landings such as the F-35C, F-18E and E-2 Hawkeye, or whether they will only rely on the vertical-landing F-35B. Fighters with vertical landing are usually less efficient and much more expensive to maintain, but they can reduce the crew of the ship and remove expensive mechanisms such as electromagnetic catapults and aerofinishers.
In addition, the new aircraft carrier is likely to have a conventional power plant, which will further reduce costs. British aircraft carriers of the Queen Elizabeth class with a total displacement of 70,6 thousand tons are cited as an example. Two such ships have already been built - HMS Queen Elizabeth and HMS Prince of Wales.
Each such aircraft carrier costs less than a third of the USS Gerald R. Ford, but has less combat effectiveness. But they are much more cost-effective, taking into account the deployment of new models of anti-ship weapons by the adversaries, the publication from the United States summed up.