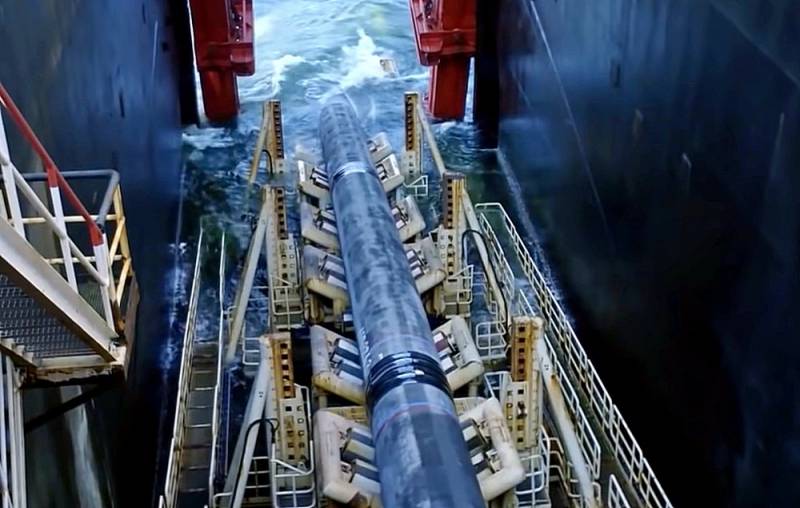 On the eve, before Nord Stream 2, a certain shadow of hope dawned that the project would still be implemented. The unfriendly European Commission recognized the impossibility of introducing new sanctions against him because of the "Navalny case", and German Chancellor Merkel said that the differences with Washington over the unfinished gas pipeline were not so great. Trilateral negotiations are planned, as a result of which a compromise may well be found. It's just not a fact that we will really like their results.
To understand, it is necessary to take into account that Nord Stream 2 and Turkish Stream were created as alternative routes for gas supplies to Europe bypassing hostile Ukraine. At the same time, the goal was to eliminate Moscow's dependence on Kiev once and for all. And we must understand that no new gas was supposed to be pumped through the new two pipelines, this is the same "blue fuel" that previously went through the dilapidated Ukrainian GTS. Unfortunately, this simple Gazprom plan has almost completely failed.
First, discriminatory measures were applied against Nord Stream 2 under the Third Energy Package, which left it half empty. Then, because of the US sanctions, the construction was abandoned by a Swiss contractor, and after his example other Danish and Norwegian companies followed. Gazprom has not yet succeeded in completing the construction of the subsea pipeline on its own due to new restrictive measures by the United States. The domestic monopolist is at a dead end. But in Berlin they are talking about some new negotiations with Washington. What could be their essence?
For an adequate assessment of the situation, it should be borne in mind that Europe, in general, and Germany, in particular, need Russian gas. The only question is how much and on what terms. The EU no longer wants to become a victim of the "gas wars" between Russia and Ukraine, as it was before. Over the past decade, a developed gas transportation infrastructure has been built between the EU countries, and numerous LNG terminals have appeared on the coast. Liquefied gas is subject to serious price fluctuations, but the very possibility of obtaining it gives Brussels an alternative to fuel from Gazprom and a guarantee that in an emergency the Old World will not freeze in winter. This is called diversification.
Go ahead. The Kremlin obviously set itself the goal of getting rid of gas transit through Ukraine once and for all. But the problem is that the Europeans don't want this at all. First, they need to keep the huge Ukrainian UGS facilities in a functional state, which are an effective damper for the EU's energy supply in cold winters. In principle, no one in Brussels and Berlin is going to refuse them. Secondly, the Europeans need someone to regularly throw money at Independence Square to "keep the pants on." Russia represented by Gazprom is an ideal candidate for this.
And what do we get in the end in this situation. Earlier, Chancellor Merkel set conditions for maintaining certain volumes of transit through Ukraine. A year ago, Alexey Miller's team of "effective managers" signed an extremely unprofitable transit agreement with Naftogaz for a period of 5 years. Their only excuse for this could be that it was done the very last time. Alas, these are likely to be false hopes. A likely outcome of the "trilateral compromise" is permission to complete and commission Nord Stream 2 and Turkish Stream. In return, Gazprom undertakes to maintain substantial transit volumes through Independent. And this is a double-edged sword. It seems that bypass routes will be launched, but Ukraine will remain in business. Note that its GTS is worn out and needs major overhaul. Who will pay for it? Guess it at once. Transit tariffs are already high, but then Kiev will simply lay in them funds for the repair and modernization of the dilapidated pipeline and the maintenance of UGS facilities. And you have to pay.
It turns out that instead of getting rid of the "transit stranglehold" on the part of Ukraine, Gazprom received a surplus gas transportation infrastructure in the form of two new pipelines and one old one, which will need to be endlessly repaired, given the corruption realities of Nezalezhnaya. At the same time, simply stamping their feet and refusing to supply gas to the EU at all, blackmailing Brussels and Berlin by the fact that they will freeze in winter, will not work. Recall that, if absolutely necessary, they will interrupt with the help of LNG, for which American suppliers will thank the Kremlin, and the domestic monopolist will lose its main export market in the European Union.
These are the prospects that emerge based on the results of the "multi-move" that started in 2014. It is possible to reverse the negative trend only by the most extraordinary methods.