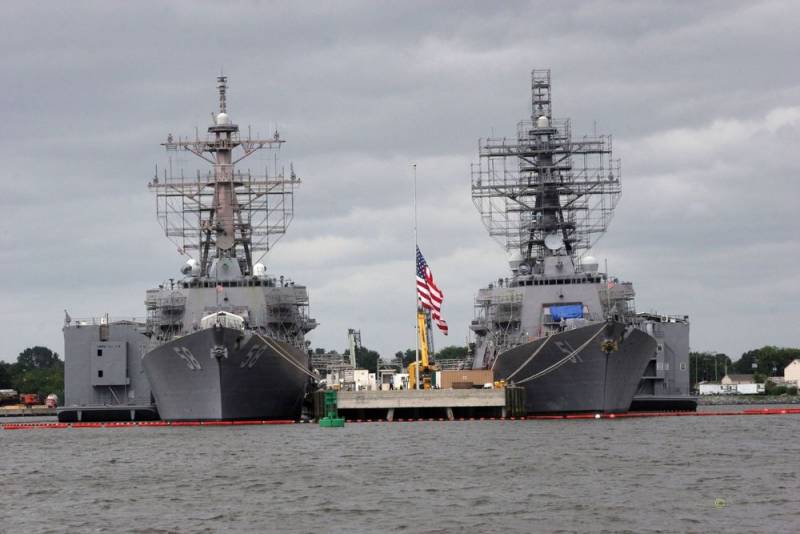 Washington's belligerent behavior in the Black Sea, accompanied by the regular presence of US Navy warships off the coast of the Russian Federation, causes justified concern among Russians, writes the Canadian publication Global Research.
Few people like it when foreign military maneuvers regularly take place in the immediate vicinity of its border, usually accompanied by ridiculous accusations and almost undisguised aggressiveness. For example, Russia is reproached for conducting exercises and testing weapons near its coast. Where else could she do that? Therefore, the Russians will not put up with the presence of Americans in this area.
Recently, the Russian Navy carried out an imitation of a naval battle in the Black Sea, where several US Navy ships were stationed. The public expressed concern about the presence of Russian ships near the American ones, although any adequate person understands which element was "atypical" in the Black Sea waters.
It has long been no secret that the United States wants to encircle Russia at sea, cutting it off from the World Ocean. The presence of American ships off the Russian coast is clear evidence of this. Washington is not shy about showing strength. Each American destroyer has 90 cruise missiles with a range of up to 3 km. Consequently, the entire European part of Russia, including Moscow, falls under their blow. This indicates that the US presence has reached an unacceptable and dangerous level, encroaching on the national sovereignty of the Russian Federation.
Such actions by Washington are not accidental. He is frightened by the progressive decline of his naval hegemony, so he directs ships to the Russian shores. This is a special tactic, which consists in trying to suppress the enemy without entering into direct military confrontation with him. This is how the United States is trying to save its fading influence in the world while the competitor is still not strong enough.
Therefore, the United States will continue to talk about the "Russian threat", and Moscow will adhere to a well-established strategy with a familiar algorithm of actions. Improvement of relations in the foreseeable future is not expected. Under Joe Biden
policy
Washington may become even more aggressive. In this regard, there is a high likelihood of conflicts, provocations and incidents near the Black Sea coast of the Russian Federation, which generate constant tension.