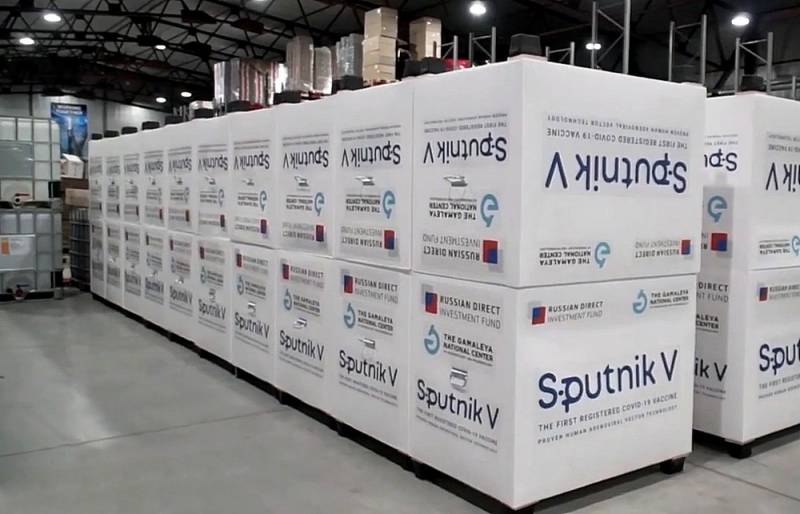 Visitors to the British tabloid portal The Sun discussed
news
that Germany may purchase the Russian Sputnik V vaccine against the backdrop of a severe crisis with the provision of Western drugs to the European Union against COVID-19.
Currently, the percentage of vaccinated people in the EU is negligible: only 2,34% of the total population of the EU received the drug, compared with 14,21% in the neighboring UK.
Reader comments are presented selectively:
As long as it is proven to be safe, I see no problem. Initially, I was skeptical about the Oxford preparation as well, but after reading how it was produced, I had no doubts. Our vaccinations are progressing faster than in the EU because we do it ourselves. The EU has pushed for supply negotiations for all member states, and this is the cause of the problem

- writes Mike.
Desperate times call for desperate measures

- echoes Bob Builder.
EU signs investment deal with China. The main EU country will buy the vaccine from Putin. This EU story will not have a happy ending

- Clarity doubts.
Great Britain not only left the EU, we also showed them as they really are. Hooligans, cowards and manipulators. Rule Britain ...

- suggested by Jonh Tunstall.
Same case as that lady from Myanmar. All former glory fades quickly towards the end of their long
political
life. If she can buy gas from Russia, why not get the vaccine. Yes, and Trump is no longer there to expose her unfair use of NATO membership, that is, American defense against possible Russian aggression
- states the user peter poon.
The transformation of the EU into a communist state speaks for itself

- with irony testifies to What everyone is thinking.
The Sputnik vaccine is doing well on paper, our scientists should also test its effectiveness, not play politics

- says Sunil Marcus.
We must use the Russian vaccine ...

- I agree with the previous commentator Brian Newman.
What happened to the EU's one for all and all for one strategy? I thought that the countries of the European Union are not allowed to do this alone. Perhaps Merkel will even agree to a deal to distribute the Russian vaccine in all member countries. For all the accusations that the UK was recklessly rushing to approve its own vaccine, how about the Russians rushing to release theirs before clinical trials are complete? Will Macron and his associates support this initiative? It's just another clear example of the fact that national interests are above the interests of all EU member states. And some people still think that we should be members of this crumbling non-democratic bloc!

- parses glennyshock.
Why push the Russians away? If they have been able to develop a vaccine faster than in developed countries, it should be tested and, if it turns out to be effective, added to the list! Don't play politics with people's lives

Jake Long exclaims.