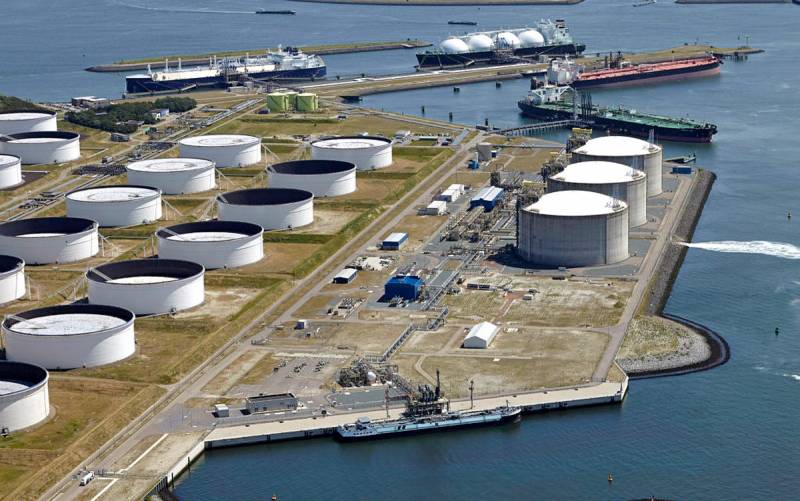 A coup d'état took place in Ukraine in 2014 under Democrat Barack Obama. During the four-year presidency of Donald Trump, the Republican did not pay much attention to Independent. But now Obama's former Vice President Joe Biden has come to the White House, undoubtedly one of the main co-authors of the "Ukrainian economic miracle." What will change now in relations between Washington and Kiev?
The goal declared by the Maidan authorities is to get Nezalezhnaya out of the embrace of the "Russian world", which should manifest itself, in particular, in disconnecting from the unified energy system with Russia and Belarus and connecting to the European one.
Let's say
directly, Kiev chose not the best time for this. On the one hand, Ukraine has four nuclear power plants, coal-fired thermal power plants, a well-developed gas transportation infrastructure and the largest underground gas storage facilities in Europe. On the other hand, all this former national economy is constantly "pouring in" because of the stupid politicized governance and proprietary Ukrainian corruption.
For example, Ukraine on principle refused to buy natural gas directly from Gazprom, but takes it with a surcharge from neighboring Slovakia, Hungary and Poland. This supposedly ensures its "energy independence" from Russia. Nuclear power plants do exist so far, but they are gradually depleting their resource, the number of breakdowns and accidents is increasing. Since cooperation with Rosatom has been terminated and there is no money in the treasury, Kiev risks in the foreseeable future to be left without its nuclear power plants altogether, which will have to be liquidated in accordance with European norms. Since last October, Ukrainian nuclear power plants have been forced to go for unscheduled repairs, which aggravated the existing problems.
Instead of a nuclear power plant, the additional load fell on the thermal power plant, and this required the burning of a large amount of coal from the accumulated reserves. Suddenly strong winter cold came, and here the corruption realities of modern Independence appeared in all their glory. The state-owned company "Centrenergo", which in Ukraine is considered informally controlled by the oligarch Igor Kolomoisky, preferred to spend fuel to provide energy to the ferroalloy plants of Kolomoisky itself. United Energy, owned by the billionaire, bought all the kilowatts from Centrenergo at a price below the cost price. Coincidence? I don't think so.
As a result, there was a shortage of energy, which had to be compensated for by supplies from Russia and Belarus. Kiev was twisted, but had to buy electricity. There were also those who called it "high treason". Actually, what other options remain? It is quite possible that, against this background, Democrat Joe Biden will make Ukraine an offer that it simply cannot refuse.
First of all, Pennsylvanian coal comes to mind, which the American company Xcoal Energy Resources began supplying to Nezalezhnaya in 2017. The gesture was frankly political, but neither the state-owned Centrenergo, nor the private business structures of the oligarch Akhmetov simply could not avoid purchasing coal supplied from the United States at inflated prices. Loyalty must be demonstrated and consistently reaffirmed. With the return of Biden, one can expect a deepening of cooperation between Washington and its "51st state" on this issue.
Further, Ukraine will clearly be led into a "bright future" under the arm, convincingly asked to increase purchases of American LNG. For the first time, the supply scheme through the Polish terminal in Swinoujscie was tested in 2017. Since Turkey refused to let LNG carriers through the Bosphorus for Nezalezhnaya because of the threat to Istanbul, the plans to build an LNG terminal in Odessa had to be given up. The option with Poland remained. In March 2020, Kiev signed a contract with Louisiana Natural Gas Exports for the supply of LNG in the amount of up to 6-8 billion m3 of natural gas (about 4,5-6 million m3 of LNG). This should have alleviated the problem with gas imports by half. However, there are still great technical difficulties.
At first
, the regasification capacities of the LNG terminal in Swinoujscie are now booked for the needs of the Polish PGNiG itself. Therefore, Ukraine will have to wait until 2025, when the second LNG terminal in Gdansk FSRU with a capacity of up to 8,2 billion m3 / year will be commissioned.
Secondly
, the available capacities for pumping gas from Poland to Nezalezhnaya are limited to 2 bcm / year of gas. You can either increase them to 3 billion m6,6 / year by upgrading the existing gas pipeline-interconnector, or build a new one, which Warsaw proposes to do.
All this requires capital investments, which Kiev itself cannot afford now, but if Uncle Sam asks, it will have to decide something. Alternatively, Western partners can provide Ukraine for the construction of a tied loan secured by something of value.