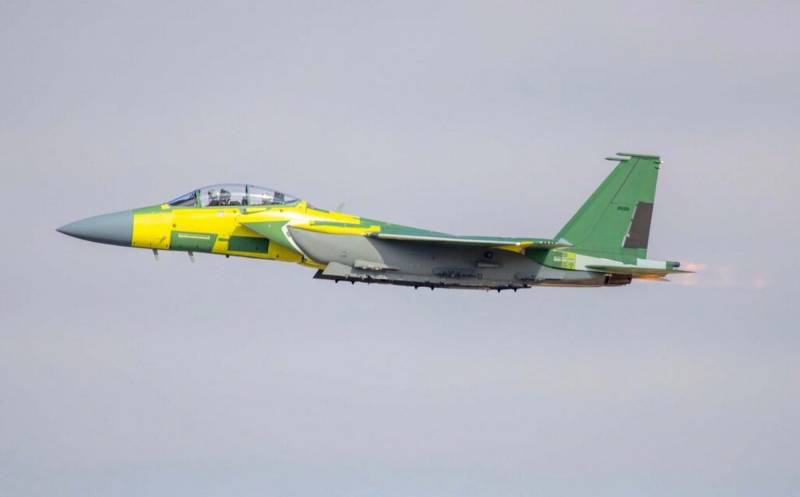 On February 2, 2021, the first F-15EX fighter made its maiden flight, writes the American edition of Military Watch.
F-15EX - designed to become the heaviest fighter not only in the United States, but throughout the world. It is based on the Cold War F-15A Eagle, which was developed during the Vietnam War and made its first flight 49 years ago, in 1972.
The F-15EX underwent a series of upgrades and became a serious competitor to the Russian Su-34 and Su-35, as well as the Chinese J-16. Moreover, it is in many ways ahead of the F-22 and will be able to carry 22 air-to-air missiles or 28 guided bombs, which is a world record in itself. The mass of the combat load is expected to reach 12,7 tons (versus 12 tons for the Su-34).
It was possible to carry out a deep modernization, among other things, thanks to foreign orders made over the past two decades. South Korea - 60 F-15K, Israel - 25 F-15I "Raam", Saudi Arabia - 84 F-15SA and "upgrade" 70 F-15S, Singapore - 40 F-15SG, Qatar - 36 F-15QA.
In service with the United States there are now about 400 F-15C / D units aged 35-40 years. The F-15EX has significantly lower operating costs than the older F-15 variants and is built using modern
of technologies
.
In the summer of 2020, the Pentagon and Boeing
signed a contract
for the production of the first eight F-15EX for $ 1,2 billion. The military wants to get 144 such fighters for $ 23 billion. The F-15EX is expected to continue service until the 2050s, by which time the F-15 platform will fly for more than 80 years. summed up the media from the United States.