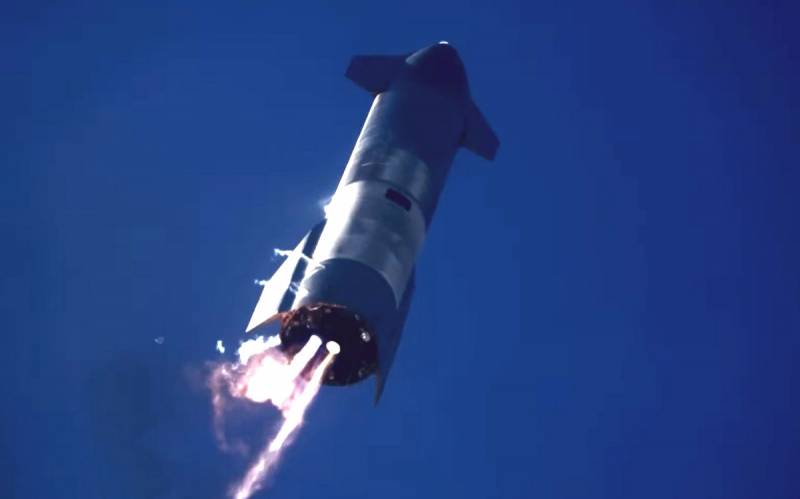 On Tuesday, February 2, the second in a row "jump" of the prototype of the promising Starship spacecraft from SpaceX ended in an explosion. The tests were carried out at a test site near the village of Boca Chica in Texas.
It should be noted that, like last time, on December 9, 2020, the flight of the prototype was generally successful. However, at the final stage, the ship was unable to make a "soft landing" and exploded on impact on the ground.
The current tests provided for a "jump" version of the SN9 apparatus to an altitude of 10 km. Then he had to perform a flip to a horizontal position for a controlled descent. In the final phase of the flight, the prototype again had to reorient itself vertically and, turning on the engines, land at a given point.
All the aforementioned maneuvers, with the exception of the last one, took place as usual. However, the descent speed exceeded the norm and the ship simply did not have time to take a fully vertical position. As a result, the current tests also ended in an explosion.
However, like last time, the ship crash did not "upset" the specialists from SpaceX. For example, Chief Integration Engineer John Insprucker called SN9's flight excellent, adding that the company only needed to work on the landing.
Recall that the Starship & Superheavy interplanetary transport system is being developed by the Elon Musk Corporation for the future sending of goods and people to Mars. The prototypes used for testing are made of stainless steel and represent early versions of the advanced spacecraft. According to preliminary data, the company plans to build about 20 such devices.