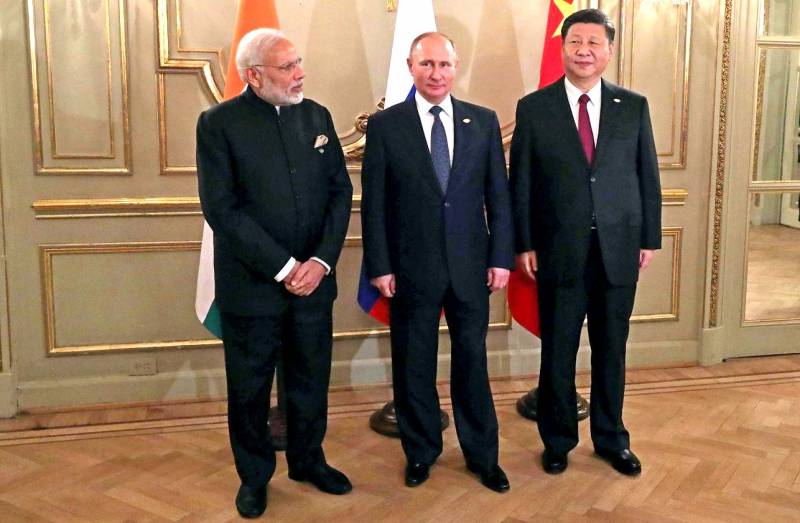 During the military-political crisis between China and India in Ladakh in the summer of 2020, many experts believed that Russia would accept one of the sides of the confrontation. However, this did not happen, and Moscow refrained from commenting on the situation in Ladakh. Why does the Kremlin not plan to make a choice between China and India?
Russia will not choose between India and China because it simply does not want to
- believes the head of the Carnegie Moscow Center Dmitry Trenin, quoted by The Print.
According to the expert, Russia looks at the processes taking place in the world differently. According to the country's authorities, the world should be multipolar and have several centers of power, and they should not be limited to Washington, Beijing or New Delhi. However, now the seeds of a new unipolarity are ripening, in which powerful China can begin to dictate its interests to the world.
Global trends speak in favor of China, which in seven years will bypass the United States and become the fifth
the economy
the world. A pandemic can speed up these processes. Over the past year, US GDP fell 4,4 percent, while China's rose 2 percent.
Against this background, as well as because of the sanctions imposed by Washington on Moscow and the uneasy relations between the United States and China, economic ties between the Russian Federation and the PRC naturally strengthen. Russia buys Chinese bonds, supplies China with weapons, energy, nuclear
Technology
, agricultural products. Meanwhile, the trade turnover between Russia and India is practically not growing.
At the same time, Putin is confident that he is in control of the situation and knows where, if necessary, to draw the line, while refraining from public choice between Beijing and New Delhi.