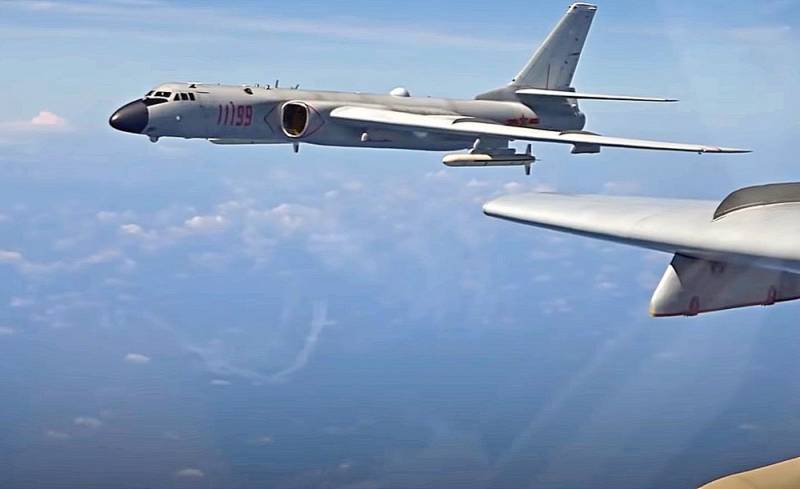 Tensions in Sino-US relations persist. Washington recently dispatched an AUG led by the USS Theodore Roosevelt (CVN-71, "Theodore Roosevelt") Nimitz-class aircraft carrier to the coast of China. Beijing immediately responded by sending PLA bombers to simulate attacks on US Navy ships in the South China Sea near Taiwan, Military Watch writes.
It should be noted that Taiwan is a potential hotbed of tension between the United States and China. Washington supports a democratic government in Taipei. Former US President Donald Trump approved over $ 10 billion in arms contracts.
Moreover, most of the world's states and the UN consider Taiwan to be part of China. Consequently, these arms deals amount to the arms of a non-State actor. In addition, China and many Asia-Pacific countries are watching the growing US military power in the region with deep concern.
For two days, on January 23-24, 2021, more than a dozen N-6 "strategists", accompanied by an escort, carried out an imitation of an air strike on the AUG. This is confirmed by the Financial Times, citing sources in the intelligence community. Washington called Beijing's latest actions the first Chinese warning to newly elected President Joe Biden for US intervention in Taiwan.
N-6s are armed with modern anti-ship weapons, which are specially designed to break through the US air defense / missile defense system. The PLA has a YJ-12 cruise missile, which develops a speed of Mach 4. Each H-6 can carry up to four YJ-12s.
It should be added that the Indo-Pacific Command of the US Armed Forces has already issued a statement on this matter. According to the US military, the PRC Air Force bombers simulating a group attack on the AUG near Taiwan did not pose a threat "at any point in time to American ships, aircraft or sailors."
At the same time, the US military stressed that the actions of the Chinese reflect Beijing's ongoing attempts to use its troops as a tool of intimidation and coercion. However, this message would look more plausible if it was about the presence of the PLA Air Force or Navy off the coast of the United States. Moreover, Reuters reported, citing a source in the US administration, that no Chinese aircraft flew closer than 250 nautical miles to the American AUG.