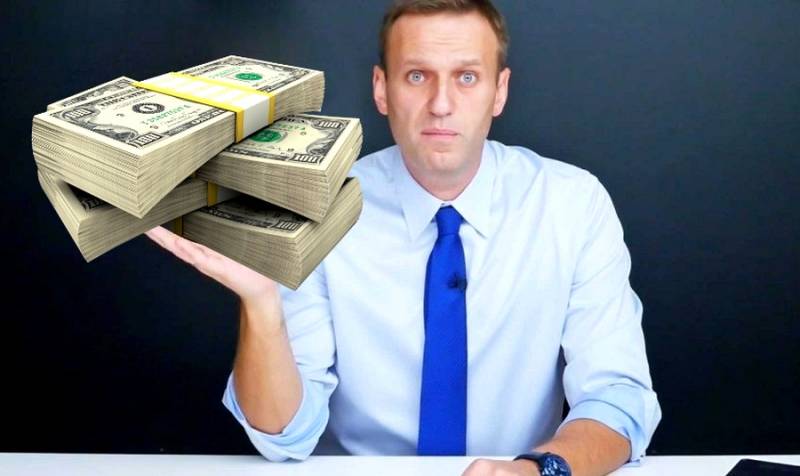 My friends, today I have a super interesting material for you that sheds light on the financial aspect of the activities of our national lamp of democracy, a principled fighter against corruption, a heroic victim of the "bloody hebny" and the unkillable Terminator, and now a prisoner of "Matrosskaya Tishina" Leshenka Navalny.
A banquet of unprecedented generosity. Who pays for it?
Looking at the triumphal procession of the last video of our hero about Putin's palace across the Internet, where he has already scored more than 100 million views (and this is only the first week, what will happen next, I'm even scared to think!), You ask yourself an involuntary question - who pays for this a banquet of unprecedented generosity? After all, it has been hanging for the 8th day on the fixed 1st place of the 1st top-issue list of YouTube. And this, believe me, is a very expensive pleasure. Many YouTubers dream of this in order to wind up views, but not everyone can afford it. You pay here as for advertising at the advertising rates of video hosting. YouTube feeds from you, and you feed from YouTube. But this is bread for ordinary video bloggers, for such as Yuri Dud, Nastya Ivleeva, Anatoly Shariy and others.
For our hero, who is now languishing in the dungeons of the "bloody gebny", these crumbs, which the video hosting lists him for views (although for many of you it would be absolutely unthinkable money!), Are far from the main source of his income. He is also supported by the people who donate their pennies to all the purses of the FBK headquarters fixed there (ruble, dollar, YMONEY, PAYPAL, bitcoin wallet) to support his fight against the "bloody regime", taking this money away from themselves, just to withdraw to clean water this whole gang of thieves and crooks. For a holy cause, one might say! This is, so to speak, the official legend.
One ordinary blogger from America, "Sanya from Florida", devoted his investigation to the exposure of this legend. He is not even an opponent of Navalny, and more importantly, he is not a supporter of Putin, he is a US citizen, he doesn't care at all, he is above the fight. He drew attention to those things that I would not even look at. I only noticed that someone is moving the products of our hero to the 1st page of the top results of YouTube, realizing that this is a marketing promotion and very expensive. But Sanya from Florida went even further, he got into the wallets of our hero (more precisely, the headquarters of the FBK) and tracked who they belonged to, and what amounts were pumped through them, and came to absolutely awesome results.
There, on unknown paths, there are traces of unseen animals
My friends, those of you who are older, should remember the legendary film of our youth "In the Zone of Special Attention" (1977), where the paratroopers of Lieutenant Tarasov (performed by Boris Galkin, better known to young viewers as the father of Vladislav Galkin, who left us ) in the course of military exercises as part of a reconnaissance and sabotage group, they solve difficult tasks, confronting both fugitive recidivists-criminals, and the intrigues of their conditional opponents in these exercises - "Northern". There was an episode when Tarasov's group was ambushed at the ZKP (disguised command post) of a mock enemy, and only when they got there, they realized that the ZKP was a fake, created by the enemy to distract attention. And, having fallen into this trap, they thereby let down their command, not having solved the task assigned to them. And it would be a complete fiasco if Warrant Officer Volentir (performed by the legendary Mihai Volontir) did not find in all this props the only real object - a communication cable stretching from the checkpoint of the fake ZKP somewhere. It is through this cable, which the "Severnye", due to their negligence, did not manage to wind up, our heroes and go to the real ZKP of the enemy and solve the task assigned to them - the forces of the airborne regiment, landing directly on the ZKP, smash it.
Why am I telling you all this, it's just that Sanya from Florida found the only real object at Navalny's fake command post - his headquarters' bitcoin wallet. And through it, like a cable, I went to all the conspiratorial sponsors of our hero, good
technology
the blockchain on which all digital currencies are based allows this to be done. The fact is that the technological breakthrough of all these currencies is based on one fundamental thing, they use a completely unique block-chain technology, based on the system's capabilities to process large amounts of data (big dates), which allows pulling the tip to reach its end. unwinding it to the very beginning. The uniqueness of cryptocurrencies lies in the fact that they allow you to track all transactions of their customers, the entire history of the movement of money, leaving the customers themselves incognito. Truly endless opportunities for all kinds of fraudsters of different varieties and intelligence of all countries. What they actually use, and it is for this reason that the crypt is still outside the law, i.e. in a semi-legal position.
Of course, you will watch the video of Sani from Florida (it is short, only 20 minutes). There he unwound just one tail of the receipt of money at the headquarters of our hero. Just one, in one day. And I have already reached the absolutely mind-blowing numbers of injections of unknown sponsors into the project of our fighter against corruption. Unknown sponsors operate with bitcoins. The cue ball exchange rate fluctuates, at its peak it recently caught 38 thousand dollars for 1 bitcoin (now it fluctuates around 37,750 thousand USD, before that there were 7 thousand, 12 thousand, and 14 thousand). During the day tracked by Sanya from Florida, Navalny received some unfortunate 10 BTC from a generous unknown sponsor from a generous unknown sponsor, which at the current rate at that time was 105 thousand USD. On other days, other unknown sponsors of the project threw small things there too (apparently for them) - 14 BTC, 13 BTC, 20 BTC, 12 BTC, 9 BTC, 8 BTC, 5 BTC, 6 BTC, the list is long (Sanya leads by adsorbing the data into a single table). These are all one-time payments. 105 thousand dollars turned out to be the largest only because of the current BTC / USD rate at that time. In the table, Sanya filtered the receipts by amount, grouping them in descending order from largest to smallest, so you can see the movement of money in the account from the largest injections to the smallest. Amounts vary from 105 thousand, 93 thousand, 92 thousand, 91 thousand, 83 thousand, 81 thousand, 80 thousand, 58 thousand, 55 thousand and further down to zero. Let me remind you that we are talking about one-time payments in US dollars!
Do you know a lot of people who receive (I can't say earn) 100 thousand US dollars a day? I will not bring you the salary of the President of America, so as not to upset him, believe me, he gets much less! Although no, I will nevertheless say that since 2001 this figure has been fixed, the annual salary of the US president is 400 thousand USD (about 33 thousand dollars / month). The salary of the Vice President of the United States is even less - 235 thousand dollars / year (19,5 thousand USD / month). Against the backdrop of Navalny, US senators are simply poor homeless people - 174 thousand USD / year. Bulk gets so much a day! I don't even want to talk about the saber-toothed dictator Putin, even against the background of US senators, he looks like a poor relative with an income for 2019 (for 2020, data has not yet been received) of 9,7 million rubles. (at the exchange rate it is 126 thousand US dollars / year). Where is Putin and where is Navalny? Who is fighting whom ?! It reminds me of the fight of mice against cheese.
Sanya sums up this struggle. For the entire period since the creation of this bitcoin wallet, 3,6 million US dollars were transferred to it, a little more was withdrawn due to the increased BTC rate. In rubles, this looks even clearer - 205 million rubles were received, 225 million rubles were withdrawn. I remind you that this is only one of the wallets of our hero, and only on the FBK portal there are four of them. I'm not even talking about the money from monetizing his views on YouTube, although even Dud could envy them, he has more subscribers (8,69 million versus 6,27 million for Navalny), and fewer views. Although Dud also lives with them robustly, having nailed up about 1 million dollars over the past year (although this million also comes from advertising). I think that Navalny has other sources of income that do not need to be shown on the Internet at all (SIS and CIA do not like to advertise the income of their paid agents, for those who do not understand English abbreviations, these are MI6 and the CIA, foreign policy services intelligence services of Britain and the United States). Oh, you don't believe Putin's tales about the paid agent Lesha Navalny? Well, then Sanya from Florida is coming to you! He tracked only one payment to our hero's bitcoin wallet. Only one! And he came to awesome results. About them below.
Who dined the girl, he dances her
Taking the most generous Pinocchio sponsoring our hero, the one who threw him 10 BTC or 105 thousand US dollars, Sanya went to his account in his bitcoin wallet. And stunned! Buratino turned out to be not only generous, but also rich. At the moment, on January 28, 2021, more than 1 million bitcoins were pumped through his account, which at the current exchange rate is about $ 38 billion. Do you know a lot of such people? In the Forbes list, they end with the first three lines. There are only transactions on this account over 30,130 thousand. Very active Pinocchio! What connects him with Navalny? And this is definitely not intelligence, they do not burn so cheaply, why should they transfer money to the FBK account, if Navalny can immediately? Maybe the State Department? These friends can, all the more, everything is sewn-hidden, incognito, and the money goes not to Navalny himself, but to a good cause, to his project to collapse the Evil Empire.
It was earlier that Leshenka had to rob "Kirovles" and "Yves Rocher", for which he shakes his term on bunks. Or getting ready to wind. And now, when he has reached the international level, it seems to him some kind of childish babble on the lawn, which the elderly Kremlin satrap, mired in corruption money, "sews" for him. What "Kirovles", what fraud and theft in "Yves Rocher"? I am an international swindler, practically a politician, five minutes before the Nobel Peace Prize-2021 laureate, I work on a large scale, why are you sewing some little pot-bellied thing for me ?! As they say, do not ask me about the first million, but about the second I can tell you everything myself. The funny thing is that our hero cannot tell everything about the second million either. Debit does not add up to credit! The money that grannies send him in the form of donations, taking them away from their pensions, to fight the regime, is clearly not enough to cover the balance of FBK's expenses. So you have to use the services of unknown generous Buratins, who were brought to clean water by the attentive Sanya from Florida.
Think at your leisure, why do you need a servant of someone's masters as the President of the Russian Federation? Look at Ukraine, a similar clown is already sitting there. His owners even broke into congratulating him on his birthday on January 25. Because the clown is no match! Where is Ukraine now? Do you want to be there ?!