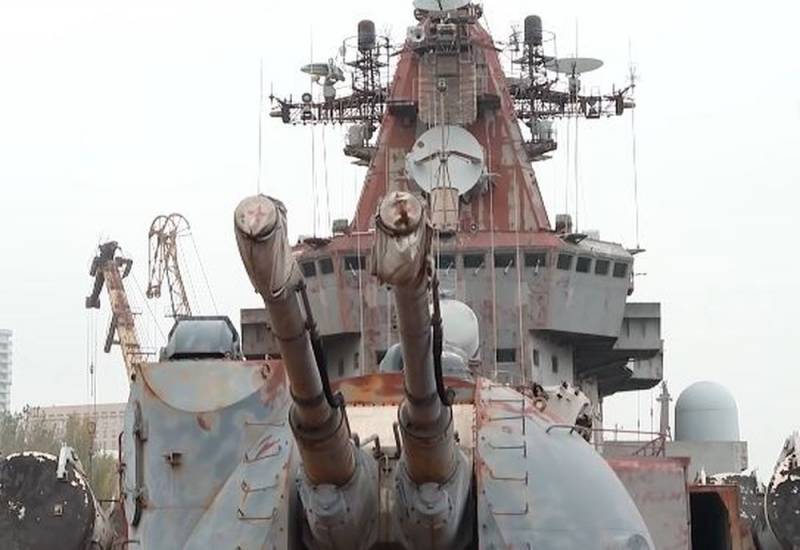 The further fate of the missile cruiser "Ukraine" (former "Admiral of the Fleet Lobov", and initially "Komsomolets") of project 1164 "Atlant" was revealed. The Ukrainian government has made the final decision on the unfinished warship, as Ukrainian Vice Prime Minister Oleg Urusky told the local media.
This story has been going on for decades and passes, like a "passing banner", from one government to another
- noted Urusky.
The functionary clarified that it was no longer possible to enter the "Ukraine" into the Ukrainian Navy. The Ministry of Defense abandoned it back in 2017 - there is no money to complete the construction of such a ship, however, there is no point, given its condition. Therefore, the Cabinet decided - to dismantle weapons and equipment, and then try to sell "Ukraine", or dispose of in the absence of a buyer.
Urusky added that the unfinished "Ukraine" really hinders the development of the State Enterprise "Nikolaev Shipbuilding Plant". In addition, there is a threat of pollution of the water area of ​​the Bug Estuary and the Dnieper Bay of the Black Sea.
The ship is unlikely to be sold. There are only two theoretical buyers - Russia and China. Moscow will not sell "Ukraine" for reasons of principle, and China simply does not need it. The Celestial Empire is building a fleet of the 21st century, where outdated ships have no place. Moreover, after the story with Motor Sich, Beijing is unlikely to want to have any kind of business relationship with Kiev. It turns out that the only option for a cruiser is to get on with it.
We remind you that in March 2017, the President of Ukraine Petro Poroshenko signed a decree on the demilitarization of "Ukraine" and scrapping. In July 2019, the President of Ukraine Volodymyr Zelensky said in Nikolaev - "I will not let you saw." In December 2020 Turkey
suggested
Ukraine to load its shipbuilding capacities with joint production of frigates.