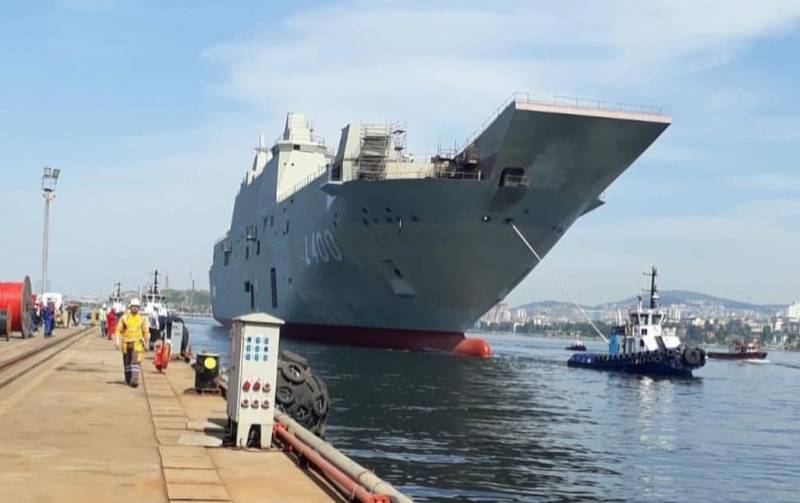 Turkey continues to actively build up its military power. President Erdogan intends to back his "imperial" plans not only with the second-strongest army in NATO, but also with a modern navy, which should give Ankara the maximum opportunity to "project" its geopolitical will at the right point on the map. For this, Turkey is going to build its own aircraft carrier, already the second in a row.
Due to its aggressive external
policy
, "Sultan" Erdogan made many enemies in the Eastern Mediterranean and seriously complicated relations with Russia on the Black Sea. To deter potential adversaries, Ankara is actively building up its combat fleet.
In particular, Turkey has maximally localized the production of submarines of the German project Type 214, developed by Howaldtswerke-Deutsche Werft (HDW). Each such submarine with an air-independent propulsion system (AIP) has an autonomy of 84 days and is capable of diving to a depth of 400 meters. The joint project "Type 214TN" (Turkish Navy) for 80% consists of Turkish-made components, the remaining 20% ​​is a German power plant and fuel cells, which will be delivered from Germany. The first submarine of this series, named Piri Reis, has already been launched, and by 2022 there should be six of them in service. If we add to them thirteen more that were previously acquired from Germany, it turns out a rather impressive force, which both our Russian Black Sea Fleet and our neighbors in the Eastern Mediterranean will have to reckon with.
But the main confirmation of Ankara's "imperial" ambitions can be considered the construction of an aircraft carrier. "Sultan" Erdogan said this back in 2016:
After the creation of the amphibious ship, Turkey will be able to build a domestic aircraft carrier. And we will build it. The Turkish Armed Forces will have their own aircraft carrier. We will achieve this. There are no obstacles along the way.
By the way, Turkey already has its own light aircraft carrier, this very "amphibious ship", as Recep Erdogan called it, or the Anadolu universal amphibious assault ship. Technically, it is a copy of the Spanish UDC-aircraft carrier Juan Carlos I. That, in turn, is conceptually close to the American Wasp-class amphibious assault ships. The displacement of the Turkish light aircraft carrier is 27,7 thousand tons. It can accommodate 12 American F-35 fighters and 12 NHI NH90 attack helicopters, as well as Anka or Bayraktar UAVs. Since it is formally a landing ship, "Anadolu" will be able to transfer up to 500 marines, as well as 46 tanks, or 77 units of wheeled armored vehicles. It was launched in 2019.
Such a tool for "projecting" Turkish power, for example, in Libya or on the disputed Greek islands. Or somewhere else, already on the Black Sea. Since according to the papers it is not an aircraft carrier, but a UDC, "Anadolu" can easily pass the Dardanelles and the Bosphorus. And now a full-fledged aircraft carrier is planned. It is not yet known on what project it will be built, with what power plant and what aircraft will be deployed on it. After being excluded from the F-35 program with the latter, Turkey had difficulties that, perhaps, will be resolved under the new administration in Washington.
It is possible that the Americans or the British will help Ankara with the construction of their full-fledged aircraft carrier. The growing appetites of the Turks in the Eastern Mediterranean are straining many, but NATO will clearly not mind if their ally has carrier-based aircraft in the Black Sea to contain Russia. The construction of the Istanbul bypass canal may help President Erdogan to bypass the restrictions of the Montreux Convention on the entry of ships of this class.