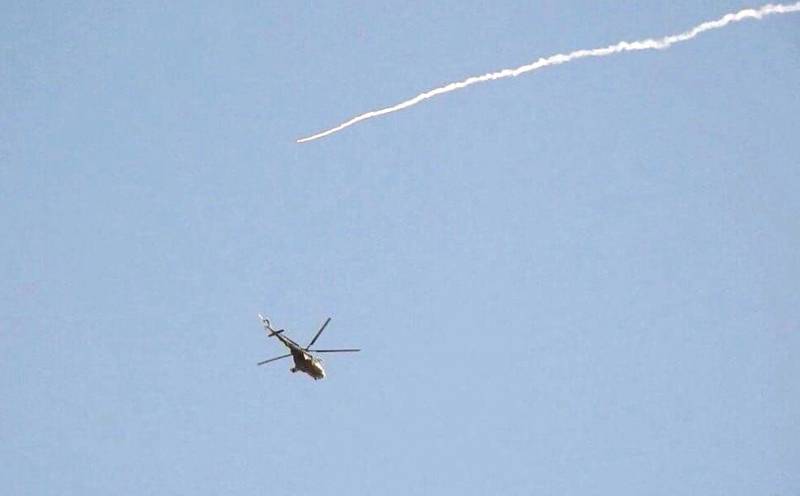 To protect against MANPADS, SAMs and air-to-air missiles, Russian helicopters are equipped with optical-electronic suppression stations of the L-370 Vitebsk family (export designation - President-S). These airborne defense systems (BKO) have proven their reliability during the Russian military operation in Syria.
An example is the documented case that took place in the fall of 2016 in the province of Hama and was confirmed by Arab sources on both sides of the conflict. The presented picture demonstrates the work of the BKO.
At 11:00 local time on October 8, a military transport-assault helicopter Mi-8AMTSh (Mi-171Sh) was delivering humanitarian aid to the aforementioned Syrian region. In the process of carrying out the mission, the rotorcraft was fired upon by ISIS jihadists (a terrorist organization banned in the Russian Federation) from MANPADS.
The Vitebsk system detected the launch of an enemy missile and automatically activated the use of a complex of passive interference, active protection (radio interference) and optoelectronic suppression. This led to the disruption of the homing head of the jihadist missile and it missed the target.
Currently, all Russian helicopters are equipped with various modifications of the L-370. Moreover, "Vitebsk" is also installed on the plane of the President of Russia, Su-25 attack aircraft and Il-76 transport aircraft.