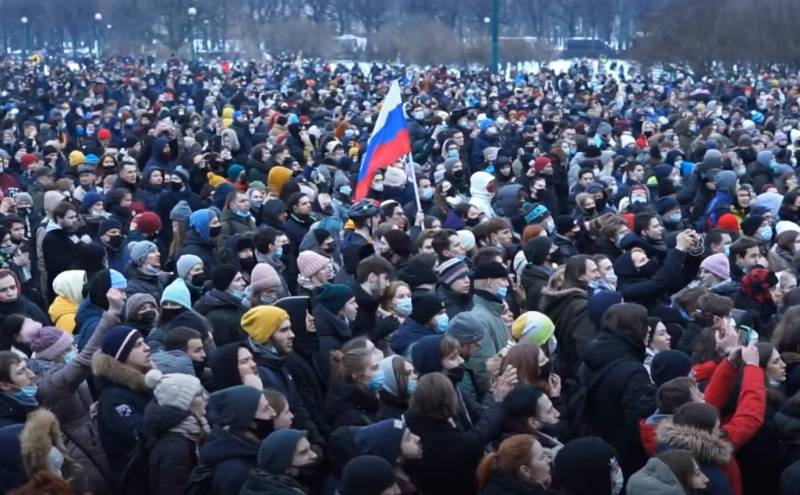 The Polish press covered in detail the opposition protests that took place in some Russian cities on 23 January.
The Polish edition Rzeczpospolita writes about the generational gap between the citizens who protested on the Russian streets on January 23 and the people in the country's top leadership.
Many who attended Saturday's demonstrations - and they took place in more than 120 cities and villages in Russia - stressed that it was the young people who took to the streets. At the same time, compared to previous protests (in 2017), the geography expanded from Yakutsk to the most militarized cities that are the bases of the navy: Murmansk and Kaliningrad. And even in Crimea

- says the new article.
One of the newspaper's cited expert opinions argued that there was "a historical and demographic clash between an aging elite and a youth in need of renewal" on the streets. The generations that grew up under Vladimir Putin do not want his continued rule.
On the eve of the rally, the President also submitted to the Duma a draft law on the abolition of age restrictions for officials appointed by him.
The authorities must finally understand that times have changed, and this is no longer the Soviet Union, no matter how they dream about it. […] This is a different generation, a different time, and here are no longer Soviet people, shouting "we support!"

- the Polish newspaper quotes the opinion of the literary critic Irina Prokhorova.
Refers to protests in terms of their impact on the international agenda and the Warsaw Institute think tank. The text notes that Kremlin spokesman Dmitry Peskov may be wrong in arguing that the assumption of the office of President of the United States Joe Biden will not change anything for Russia. In fact, relationships can deteriorate significantly.
American diplomats have already called on Russia to release those detained during the January 23 protests, as well as Alexei Navalny himself.
Biden currently has no choice but to maintain, or even toughen up the [anti-Russian] course

- says the analytical note.
The Polska Times newspaper also publishes its article on the protests in the Russian Federation.
I have no fear. I came here not for myself or Navalny, but for my son, because he has no future in this country.

- quotes the media as saying Sergei Radchenko, a 53-year-old protester from Moscow, pointing out that Russians no longer fear to resist the authorities.
The publication emphasizes that
policy
several countries, including Poland, supported the demonstrators.