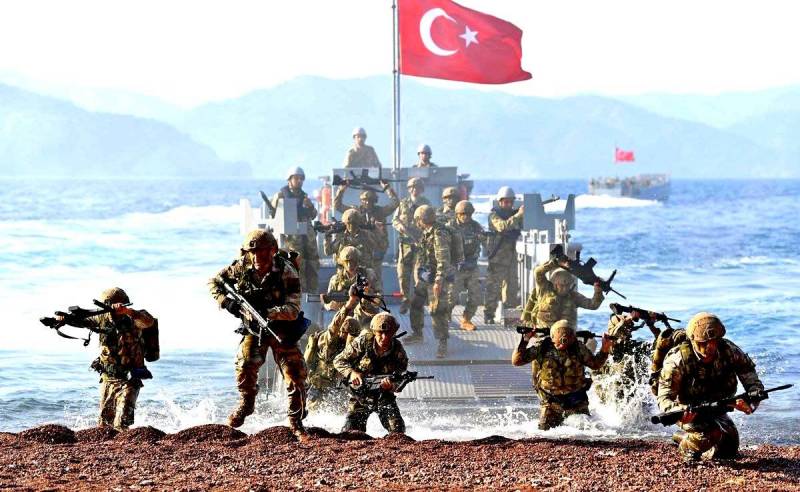 The topic of Ankara's claims to mastering atomic weapons excites minds more and more often. The reason for this is both the quite unambiguous statements of Recep Erdogan himself on this topic, and the specific actions taken by the Turkish side in this direction. Not so long ago, the domestic media and the expert community once again discussed both the realism of the claims of the descendants of the Janissaries to receive the most deadly weapon in the world, and their potential danger.
The absolute majority of the participants in the discussion came to the conclusion: the situation is quite alarming, but the Turks will not succeed. At least in the near foreseeable future. It is very possible that such optimistic conclusions were rushed.
They may or may not, but they definitely want
The reasons for worrying about Turkey's atomic plans are provided, in particular, by the words of its president that it is "unacceptable" for him to prohibit the possession of such weapons (it signed an agreement on its non-proliferation in 1980). Especially at a time when it has the same Israel in its neighbors, which definitely has nuclear weapons in its arsenals. Erdogan's fiery speech on this topic, delivered by him in Sivas last September, says a lot. This is a clear and unambiguous position, and if it is expressed so loudly, it is not without reason. At the beginning of this year, the information about the meeting of representatives of the Turkish and Pakistani armed forces that took place within the framework of the HLMDG (high-level military dialogue) program forced us to return to this topic.
This summit really brought together not low-ranking officials - the Ankara delegation was headed by the Deputy Chief of the General Staff, General Seljuk Bayraktaroglu, and the Pakistani delegation - by the Secretary of State for Defense, General Mian Muhammad Hilal Hussain. According to available data, one of the priority issues currently under way between representatives of the generals of the two countries of negotiations is the issue of Pakistan's transfer of exactly
of technologies
and components needed to build nuclear weapons. Erogan allegedly discussed such a possibility personally with the chief of staff of the Pakistani ground forces, Kamar Javed Bajwa. In fairness, it should be noted that such versions are voiced mainly by representatives of India, which is very unfriendly to Islamabad, but, as you know, there is no smoke without fire. The neo-Ottoman ambitions of Ankara and its ruler are already visible, as they say, with the naked eye. In addition, their implementation has long gone beyond the scope of propaganda and
policy
... Just recently, it has resulted in a real military expansion of Turkey in a number of regions of the world.
Nevertheless, most experts are inclined to believe that even with the most ardent desire for nuclear weapons, the Turkish militarists will categorically not see them. Their arguments can be rather easily reduced to three main groups: "they will not be able to", "they will not give" and "it is not necessary". Well, let's look at all of them in order. Those who are firmly convinced that Ankara "does not have sufficient potential to create nuclear weapons - scientific, personnel, technical, production and, ultimately, financial", I would like to remind you of some things that do not fit into this concept. First of all, according to the Turkish Energy Ministry, the country has its own uranium ore reserve of at least ten thousand tons. Plus thorium ores in much larger quantities. And, by the way, the Americans, who had the rights to develop the corresponding fields, were asked from there back in 2018. The Akkuyu nuclear power plant is being built - in cooperation with Rosatom, by the way.
The first Turkish nuclear reactor began operating at the Chekmece Research Center in 1958. Since then, such centers have increased - it is known about at least one in Istanbul and a couple in Ankara. So there is a research base there. As for the personnel potential, specialists of the corresponding profile are trained, in particular, in our MEPhI. Presumably, future nuclear physicists for Ankara studied and are studying in other countries. There is also a question about the means of delivery. Someone undertakes to argue that not having enough "long-range" ballistic missiles, Ankara with nuclear warheads should not start. The statement is quite controversial, but let's be objective - the Turks do not have such missiles yet. And "bye" is the key word here. In order to understand what their military-industrial complex is capable of, as well as to respond to allegations of "lack of funds for the atomic program", one must familiarize oneself with some fresh figures.
Militarization in full swing
All the same Recep Erdogan just the other day announced that over the past five years, his country has increased funding for military projects 11 times! Think about this figure. According to the Turkish President, having launched about 350 new projects in the military-industrial complex over a five-year period, Ankara has invested in them not $ 5.5 billion, as originally planned, but about $ 60 billion! No money?! Moreover, in accordance with the plans voiced, again, quite recently, by the head of the Turkish Defense Industry Directorate Ismail Demir, by 2023 his department is determined to increase the volume of its own exports of arms and military equipment to $ 10 billion a year. At the same time, the high-ranking official stressed that the first place for the structure he heads and for the country in general today is the question of complete, if possible, import substitution in all military projects. According to him, since 2002, "active work has been carried out to eliminate the dependence of the defense sector on imported components", which "must be completely eliminated." The impressive growth rates of the Turkish military-industrial complex testify to its potential.
Most likely, if Ankara sets out to create its own ballistic missiles, it will create them. Here, by the way, one should not forget about its sharply increased cooperation in the military-technical field with Kiev. Where have Ukrainian missile technologies "surfaced" there recently? In the DPRK, if I'm not mistaken? Well, it will be much easier for Erdogan to get them than Kim Jong-un. What else do we have for arguments? "They won't give ?!" Well, yes, of course - after all, Turkey is a NATO member, aspires to the European Union and certainly does not want to spoil relations with them, violating the NPT and creating nuclear weapons ... In order to assess the degree of validity of such statements, I propose to turn to a very interesting interview , which was recently given to Ahval by the former EU ambassador to Ankara, Mark Pierini.
This diplomat is convinced that Ankara "dropped out of NATO's defense architecture many years ago" and "finally abandoned it with the purchase of Russian S-400s." Pierini makes it clear that as long as Erdogan is in power in Turkey, who last year honored Macron as a "weak-minded", it cannot be a question of not only implementing this country's application for EU membership, but of any significant normalization relationship with her. In fact, for Europe and NATO today, Ankara is a "cut off hunk" because of its "completely autocratic system of government" and aggressive foreign policy. Do you think Erdogan is not aware of this? The extent to which this leader is subject to mental anguish and doubts in connection with the criticism, threats and even very real sanctions erupted at him, is perfectly demonstrated by the story of the acquisition of our Triumph air defense systems. No pressure from Washington has moved the stubborn Turk from his position not one iota. It is clear that a nuclear program is not an "incorrect" air defense system. Here the reaction will be much sharper and more friendly. And Ankara understands this very well too.
If you still believe that the nuclear ambitions there are more than real, then the reason for the purchase of the S-400 becomes much clearer, over which, I remember, many made fun of. After all, there was talk that in this way Erdogan was "throwing money down the drain in order to indulge his pride and raise his status in the region"? Let me suggest that our air defense systems should become a shield against the IDF Air Force, which will not hesitate to visit Turkey with a far from friendly visit, as soon as its atomic program becomes a reality. So it was with Iran, so Ankara is insured. It should be understood that there, most likely, they intend to acquire a "nuclear yatagan" on the assumption that in the very near future the entire system of world security and deterrence in the field of armaments, which is already based on parole, will finally and irrevocably collapse completely.
Erdogan and his followers are preparing to act in a world where there will no longer be any treaties prohibiting anything, and the UN and the IAEA will no longer be paid attention even out of pure decency. It is in this world that they intend to build either a new Ottoman port, or Great Turan. And here we cannot do without nuclear weapons (and it is absolutely unnecessary that they should be equipped with ballistic missiles that hit thousands of kilometers). This is to the question that "Turkey does not have military-strategic tasks that need to be solved with the use of nuclear weapons." Moreover, Erdogan is not Gaddafi or Hussein. If he does have a bomb, he will not give it to the West in exchange for any promises - not even mountains of gold.
Against whom will Ankara aim nuclear weapons, if it does have them? Well, there is even nothing to guess. Certainly not against Kurdish rebel formations ... Russia is the eternal main geopolitical enemy of Turkey, the main obstacle to the establishment of its absolute domination, at least in the adjacent regions. It is clear that the Turks will not bring their nuclear potential to the size and quality indicators, even remotely comparable with ours even for a hundred years. And nevertheless ... Today they know very well that one blow of Russian missiles can sink all their really good military fleet. But what will happen if, in a crisis situation, the response to such a warning is the threat of a nuclear mine explosion somewhere in Sevastopol? Or in the Rostov region (do not forget about the Ukrainian-Turkish friendship)?
The most realistic, in my opinion, are the words of Yakov Kedmi, who predicted that Ankara will certainly acquire atomic weapons in the next 10 or 20 years. According to other forecasts, made even earlier, this could happen as early as 2023. One way or another, Russia should not allow the emergence of a "nuclear yataghan" in the hands of new janissaries in any case.