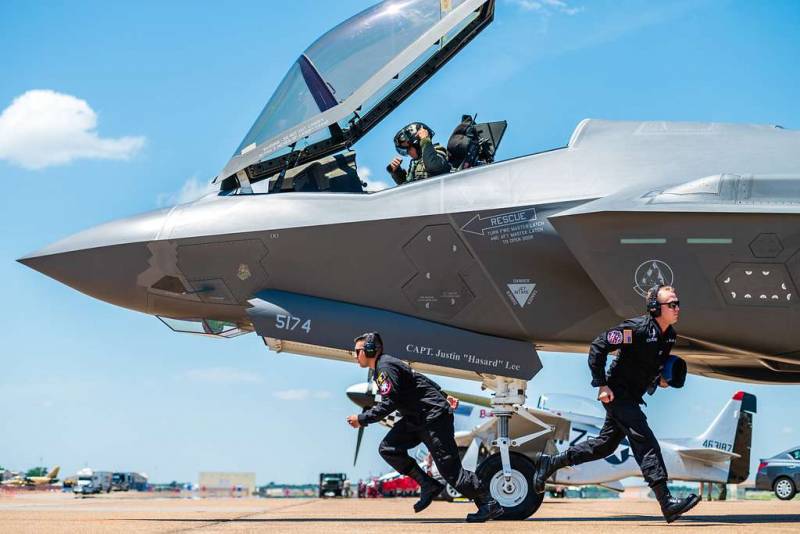 The retired US Marine Corps officer Scott Cooper in an article for Defense News called the F-35 Lightning II fighter jet as the main deterrent against Moscow and Beijing.
Congress recognizes the F-35 is the cornerstone of the great-power competition we face as a nation
Cooper noted, drawing on the 2018 US National Defense Strategy for his findings.
He also believes that in order to increase its combat potential, the US military must increase the number of stealth fighters and strategic bombers that could effectively overcome the air defenses of a potential enemy.
However, opinions about the F-35 among US military analysts vary. For example, the former acting head of the United States defense department, Christopher Miller, called this fifth generation fighter "a piece ...". According to Popular Mechanics experts, the US armed forces and their allies are "on the hook" because of the high price of the F-35, which reaches $ 117 million per plane, and also because of the cost of a flight hour of this fighter - $ 44 thousand. and large spending on the modernization of old combat vehicles.
Earlier, a report from the Pentagon's test department reported approximately 900 defects in the fifth generation F-35 Lightning II. The head of the test corps of the program, Robert Behler, noted that the plane was accepted into the US armed forces, having 941 flaws in stock. To date, there are 871 such defects. Most of the malfunctions are related to the onboard hardware and software of the fighter.