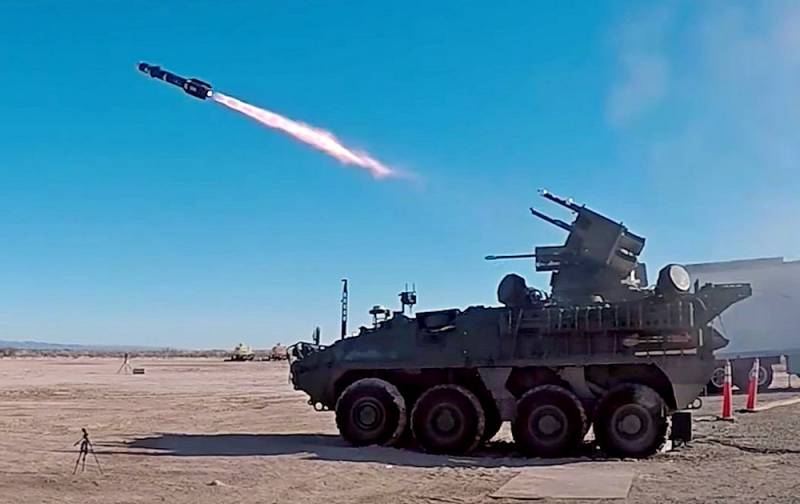 The war in eastern Ukraine forced the United States to urgently create a short-range air defense system based on the Stryker armored vehicle. The main goal of the new complex is the independent detection and destruction of air objects, especially drones, as well as helicopters, aircraft and cruise missiles. On the features of the new military
equipment
writes Defense Express.
Leonardo DRS Inc. On January 21, announced the delivery of the first sets of equipment to the US troops for 28 self-propelled short-range air defense systems IM-SHORAD (Initial Maneuver Short-Range Air Defense) manufactured by General Dynamics Land Systems for their final integration into the new modification of Stryker combat vehicles.
The central element of the air defense system is a tower with an integrated combat module RIwP (Reconfigurable Integrated-weapons Platform). Its peculiarity, among other things, consists in the abundance of means for destroying both air and ground targets: this is a 7,62-mm M240 machine gun, a 30-mm XM914 cannon, Longbow HELLFIRE missiles for destroying ground and air targets, as well as Stinger anti-aircraft missiles.
The combat module also includes an onboard multifunctional MHR in the form of a hemisphere (Multi-Mission Hemispheric Radar) to provide continuous 360-degree surveillance of the air situation, target recognition and other things, as well as electro-optical sensors.
In 2015, the US Congress Research Service drew certain conclusions from the Russian-Ukrainian confrontation in the Donbas. The US military recognized the gap in the lack of automated short-range air defense systems to defeat, including UAVs. According to analysts, since then the situation in this regard has only worsened.
We see that small countries and rebel armies are well equipped with combat drones. The IM-SHORAD complex should become a highly effective means of combating a small number of drones, but it may collide with numerous UAVs and will be unable to cope with them. Many countries are already working to create swarms of hundreds or even thousands of drones capable of coordinating attacks without direct human control.
- Critics of the American air defense system believe.
IM-SHORAD costs about $ 8 million. The United States plans to purchase 144 such complexes, although this is unlikely to be enough to protect every armored unit, military base or convoy.