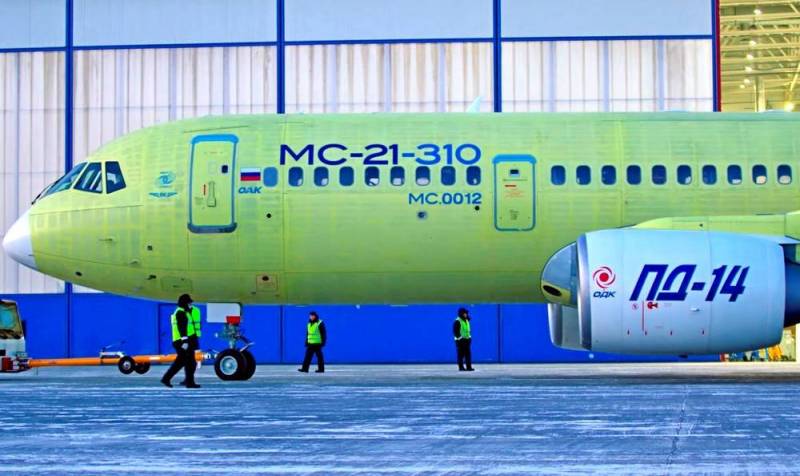 The newest Russian airliner MS-21 goes into series production. The Russian Federation has regained its place in civil aviation among the leading aircraft-building powers of the planet, becoming a competitor to world manufacturers of such airliners. Told in an interview
"Russian newspaper"
Denis Manturov, head of the Russian Ministry of Industry and Trade.
The first flight of the MC-21-310 opened the factory test program. Upon completion, the flight certification test program will begin
Said the minister.
He specified that the first prototype MS-14 will also participate in tests with the Russian PD-21 aircraft engine. After that, the aircraft will undergo remotorization.
The minister noted that for airliners with PD-14, it is still necessary to obtain a type certificate from the Federal Air Transport Agency. It will be in 2022. Then the process of passing the validation (proof of compliance) in the European Aviation Safety Agency will begin.
The head of the department said that firm contracts have already been concluded, i.e. advance payments for the purchase of 175 MS-21 units went through them. Moreover, with both types of engines (American Pratt & Whitney PW1000G and Russian PD-14). MS-21 was specially designed so that, if desired, it could be equipped with different power units.
We are deliberately expanding firm orders, taking into account the fact that we must first increase production volume, at a rate of up to 70 units per year. By the time we reach the cycle of 30-40 units per year, we can start a campaign to recruit new orders
- he stressed.
The Minister explained that Aeroflot and Red Wings will be among the first aircraft operators. Airliners will be handed over to companies only after the appearance of certificates from regulators. But agreements for the supply of aircraft have already been signed with leasing companies, including Aviakapital-Service.
The production of aircraft for delivery to customers is already underway. The first serial MC-21-300 is in the final assembly shop of the Irkutsk aircraft plant. This is the most demanded and competitive medium-haul aircraft today.
- summed up the head of the department.