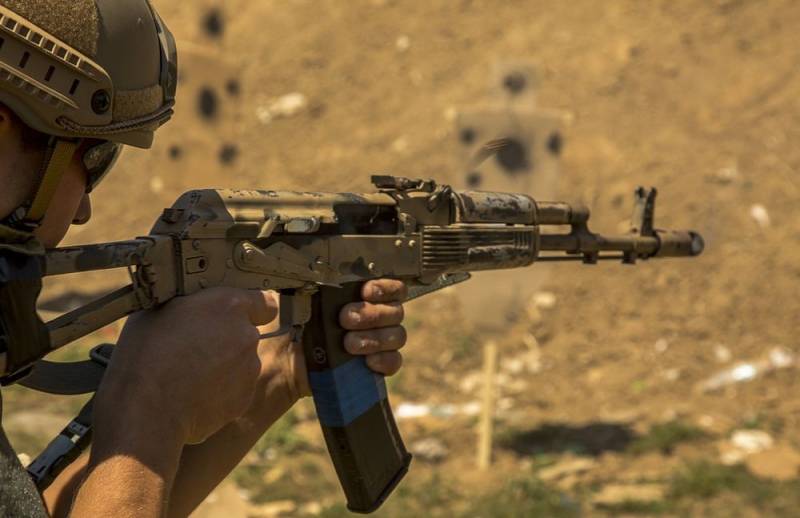 A few years after the start of the war in Donbass (in 2016), it turned out that there is no production of small arms barrels in Ukraine, and the deficit is being filled by the stocks of the local Ministry of Defense. On January 23, 2021, Mayak Plant OJSC (Kiev) announced and presented on its Facebook page the creation of a multi-caliber shooting platform, which should soon get into the Armed Forces of Ukraine.
With the aim of transition of the operators of the AK platform to the use of the world's leading cartridges, the development of the KalashNash multi-caliber platform (MP) has begun
- said in an official message prepared by the chief designer Oleksandr Gordeev.
Multi-caliber is provided by a replaceable (replaceable) barrel, bolt and magazine for the desired cartridge according to the principle of "similar machine gun anatomy." All other parts of the KalashNash MP fit any of the five most common calibers.
MP "KalashNash" is designed for firing cartridges 5,45x39, 5,56x45 (223 rem), 6XC, 6,5x39 Grendel and 7,62x39. The transition from one caliber to another is carried out within two minutes.
The classic functions of the AK platform have been expanded - the "bolt-on" mode has been implemented for accurate shooting
- will be specified in the communiqué without specification.
In addition, it is said that the KalashNash MP will also appear on the market for hunting and sporting weapons in its civilian version. The picture below shows two interchangeable (replaceable) barrels of the KalashNash MP under 5,56x45 (223 rem) and 7,62x39.

We remind you that this enterprise produces mortars M120-15 "Molot" caliber 120 mm. The adaptation of shaped charges KZ-6 for dumping from the UAV has begun. A test of the "Lord of the Horizon" sniper rifle with a 12,7x114 "HL" cartridge was carried out. The KT-7,62 machine gun was developed and tested cold.