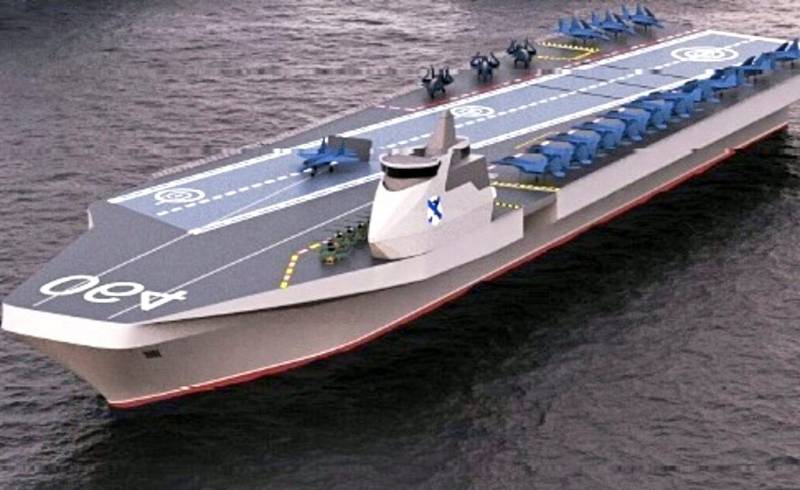 Amid continuing uncertainty about the future of Russian carrier groups, Moscow has considered several designs for new aircraft carriers to replace the aging Soviet cruiser Admiral Kuznetsov, ranging from the nuclear Storm to the much more conservative Manatee design.
And just recently, the Nevsky Design Bureau has developed a project for the Varan aircraft carrier for the Russian Navy, which is much lighter than the Manatee and more than half the size of the Storm. Military Watch experts write about a possible revolution in Russian shipbuilding.
Analysts of the American publication consider the design of the new Russian aircraft carrier revolutionary in comparison with past similar projects. A vessel with a displacement of only 45000 tons is likely to be much cheaper, but could have similar or even superior capabilities than the Manatee. Thanks to efficient use of deck space and a very small island superstructure, the ship will be able to accommodate 50 aircraft, including 24 heavy fighters, as well as 20 drones and 6 helicopters. The combat ship will have a length and width of about 250 and 65 meters, respectively, and will also be able to reach speeds of up to 26 knots.
The Varan's lightweight design could potentially be ideal for the Russian Navy. The project model released by the specialists of the Nevsky bureau shows the possibilities of placing more than a dozen Su-35 fighters in the sea version on the deck of the ship.
It looks like Varan also has a system for launching aircraft using an electromagnetic catapult, which was so lacking for Admiral Kuznetsov. Such systems are used to launch fighters with full ammunition and fuel tanks, and their absence currently limits the capabilities of the MiG-29K and Su-33, based on the deck of the Admiral Kuznetsov.