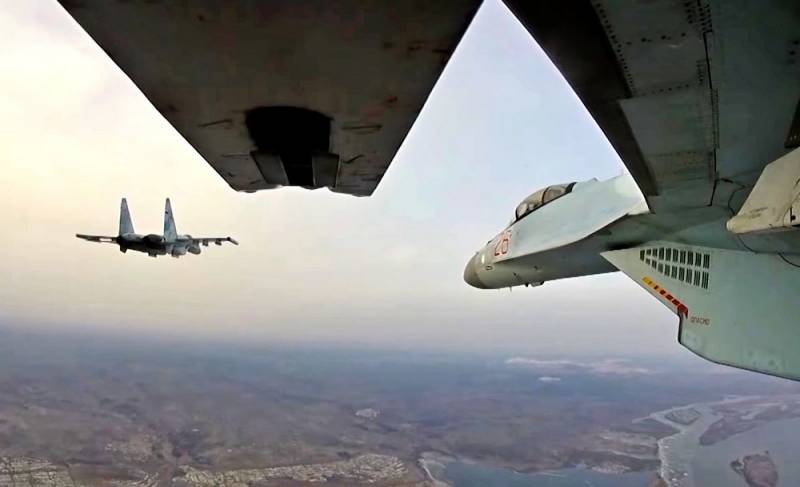 The situation on the long-suffering Syrian soil remains tense. Currently, the Russian Aerospace Forces are inflicting heavy blows on jihadists in the central part of the SAR, while the Russian military police (VP) are pulling forces to the north of the country. At the same time, US troops deployed another military convoy from Iraq to strengthen their grouping in eastern Syria, writes the Lebanese online edition Al-Masdar News (AMN).
The Russians continue to inflict missile and bomb airstrikes on objects and clusters of ISIS jihadists (a terrorist organization banned in the Russian Federation) in the desert area of ​​three Syrian provinces.
In the northeast of the province of Homs, a blow was struck in the Badiya al-Sukhna region. In the eastern part of Hama province - in the As-Saan region. In the southern part of Al Raqqa province - near the ancient city of Al-Resafa (Rusafa), where there was a major stronghold of the jihadists, from which they carried out attacks on the SAA and the National Defense Forces (NDF) - volunteer paramilitaries created by the Syrian government.
In addition, units of the Russian military
продолжают
the transfer of additional forces and equipment to the front-line zone of the province of Al-Hasakah. In this area, pro-Turkish militants, with the support of the Turkish Armed Forces, are trying to push the SAA and the Arab-Kurdish Alliance of the Syrian Democratic Forces (SDF) from a number of strategic settlements on the M4 highway (Aleppo (Aleppo) - border with Iraq), which runs through the entire northern part of the country ...
The Russians are deploying between the cities of Tal Tamr and Ain Isa. Here they will monitor compliance with the ceasefire. Prior to this, attacks by pro-Turkish militants were daily. Now they are at risk of running into Russian servicemen.
Taking advantage of the current situation, the Americans continue the illegal transfer of their forces and assets to Syrian territory. On January 21, 2021, another US military convoy, in the amount of 40 vehicles, crossed the Syrian-Iraqi border. After that, official Damascus once again demanded that Washington withdraw its troops from the SAR. A week before, the Americans had already
sent
a similar convoy to strengthen its bases in the provinces of Al-Hasak and Deir ez-Zor, summed up the Middle Eastern media.