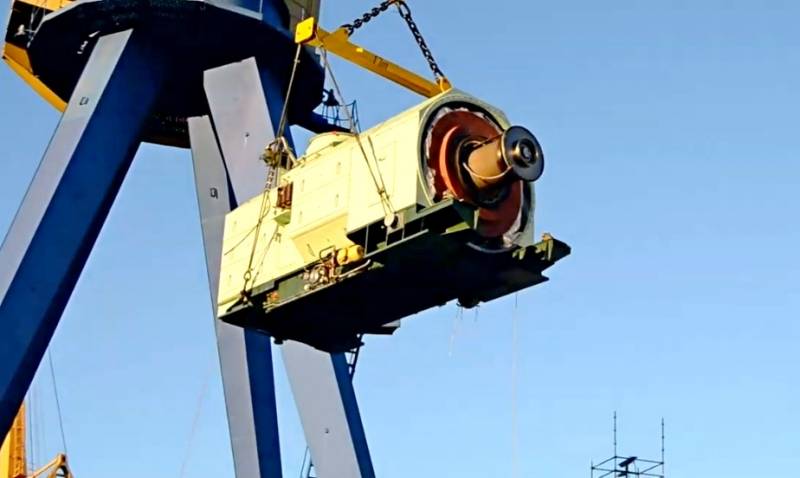 PJSC Shipyard "Severnaya Verf" (part of USC) has published historical footage of the end of Russia's dependence on Ukrainian engine builders. Russian frigates of Project 22350 began to receive domestic gas turbine marine engines.
The company presented a video digest on January 19, 2021 on its YouTube channel. It summarizes the work results for December 2020.
The footage shows how the M55R diesel-gas turbine unit (DGTA) was loaded into the hold of the frigate Admiral Golovko, which has been under construction for the Russian Navy since 2012, in St. Petersburg (z / n 923).
The specified DGTA includes: diesel engine 10D49, manufactured by JSC Kolomensky Zavod (part of Transmashholding), reducer PO55, manufactured by PJSC Zvezda (St. Petersburg) and gas turbine engine M90FR, manufactured by PJSC UEC-Saturn ( is part of the UEC of the state corporation Rostec).
It is clarified that to carry out a complex operation, shipbuilders had to do
technological
holes, temporarily removing parts of the three bulkhead decks. DGTA was loaded into the ship in parts using a floating crane. After that, the shipbuilders began restoration work and installation of the DGTA. Further work with the power plant will take several months. The ship, launched in May 2020, is preparing for mooring trials.
Note that on the first two multipurpose frigates with URO of the far sea and oceanic zone, the lead "Admiral of the Fleet of the Soviet Union Gorshkov" (in service since July 2018) and the first serial "Admiral of the Fleet Kasatonov" (in service since July 2020), are power plants produced by the Ukrainian enterprise "Zorya - Mashproekt" (Nikolaev).
So far, it is planned to manufacture 10 such ships. The fourth will be "Admiral of the Fleet of the Soviet Union Isakov" (z / n 924). It is not clear where Ukrainian engine builders will sell their products now. We remind you that in May 2015 Kiev tore up the agreement on military-technical cooperation with Moscow and banned Ukrainian enterprises from any relations with Russia in this area.