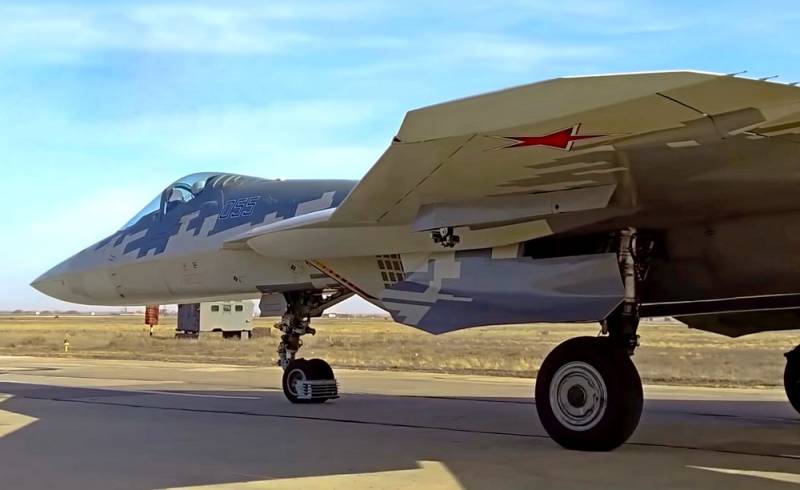 The new-generation Su-57 fighters entering service with the Russian Aerospace Forces compare favorably with many foreign counterparts in a wider range of weapons, as well as in target engagement range. Military Watch experts discuss the advantages of the Russian combat aircraft.
The publication compares the Su-57 with the American F-22, F-35 and Chinese J-20. The Russian fighter is a heavy, twin-engine combat aircraft, similar in weight to the F-22 and J-20, but designed to carry a significantly higher payload - up to eight air-to-air missiles, housed in unique tandem internal compartments.
In addition to long-range missiles, the Su-57 has additional missile bays on either side of the air intakes, allowing it to carry two specialized short-range missiles. In total, the aircraft can be armed with ten air-to-air missiles, which is 250% of the capacity of the F-35's internal compartments.
The Su-57 uses two types of missiles to destroy long-range air targets - the K-77 and the R-37, which compare favorably with their American and Chinese counterparts. The K-77, with a range of about 200 km, has a new generation homing head, which makes it extremely difficult to evade the missile. It is easier to evade maneuverable targets from the R-37, but they are designed primarily to defeat AWACS aircraft and tankers at a distance of up to 400 km.
Thus, the Su-57 surpasses its American and Chinese counterparts not only in the number of air-to-air missiles, but also in their range.
The depth of the Su-57's weapon bays allows them to accommodate larger caliber ammunition - in this it differs from the F-22 and J-20, but somewhat similar to the F-35, which was designed to carry heavy bombs such as the B61. These weapon bays allow the Russian fighter to carry Drel-type guided bombs and aeroballistic missiles, which are nearing completion. It is expected that the new modification of the Kh-47M2 "Dagger" missile will provide a range of destruction of ground targets of the order of 2000 km - several times longer than that of the F-22 or F-35.
The Su-57 can also carry high-precision cruise missiles such as the Kh-38. This great versatility is a unique feature of the Russian combat aircraft, allowing it to perform missions unavailable for the F-22 and J-20.