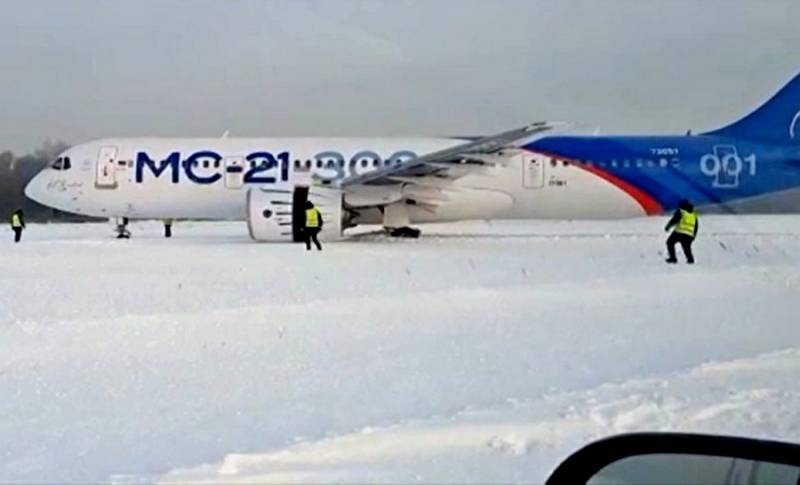 The promising Russian airliner MS-21, the serial production of which is scheduled for the end of this year, has completed one of the most important stages of testing in an extremely ambiguous way.
At the Zhukovsky airport near Moscow, a procedure was tested for emergency termination of takeoff and stopping the aircraft, which is also called "rejected takeoff." Already at the last stage, during braking, the flight model of the MC-21-300 airliner fell off the runway and got stuck in the snow, having moved into the field at a distance of about fifty meters.
Along with the rejected landing, the rejected takeoff procedure is a critical step in the flight testing of an aircraft. It is not yet clear how the aforementioned incident will affect the timing of the serial production of the promising airliner, which, by the way, have already been repeatedly postponed. Everything will depend on whether the skid is caused
technical
malfunctions or an emergency situation was influenced by factors not directly related to the aircraft.
At the moment, experts are considering several versions of what happened. The first is purely technical, associated with a malfunction of the wheel disc brakes in the side landing gear struts. Experts believe that the plane skidded precisely because of the unevenness of the applied braking forces.
However, there is also a factor that does not depend on the liner itself. The thing is that, within the framework of the current tests, the failure of one of the MS-21 engines was simulated. In the conditions of braking with the use of reverse on one operating unit, a torque acts on the aircraft, which is extremely difficult for the pilot to cope with.
Finally, you should not write off the difficult weather conditions. On that day, not only the switched off engine played against the pilots, but also the poor visibility combined with the icy runway.
The press service of the Irkut corporation said that the aircraft crew was not injured during the incident. This event did not affect the operation of the airport. No visible damage to the airliner was found, and no failure of onboard systems was recorded. At the moment, UAC specialists are working to find out the causes of the incident.
Recall that in December 2020, the Russian promising narrow-body airliner MS-21-300 took off for the first time with fully domestic power plants PD-14. The flight lasted 1 hour 25 minutes.
It is assumed that in the future our aircraft will become the main competitor for Boeing and Airbus airliners on the world market, and will also replace obsolete Soviet aircraft in the country. According to the current plan, at the end of 2021, serial deliveries of the airliner to the first customers - Aeroflot, IrAero, Red Wings will begin.